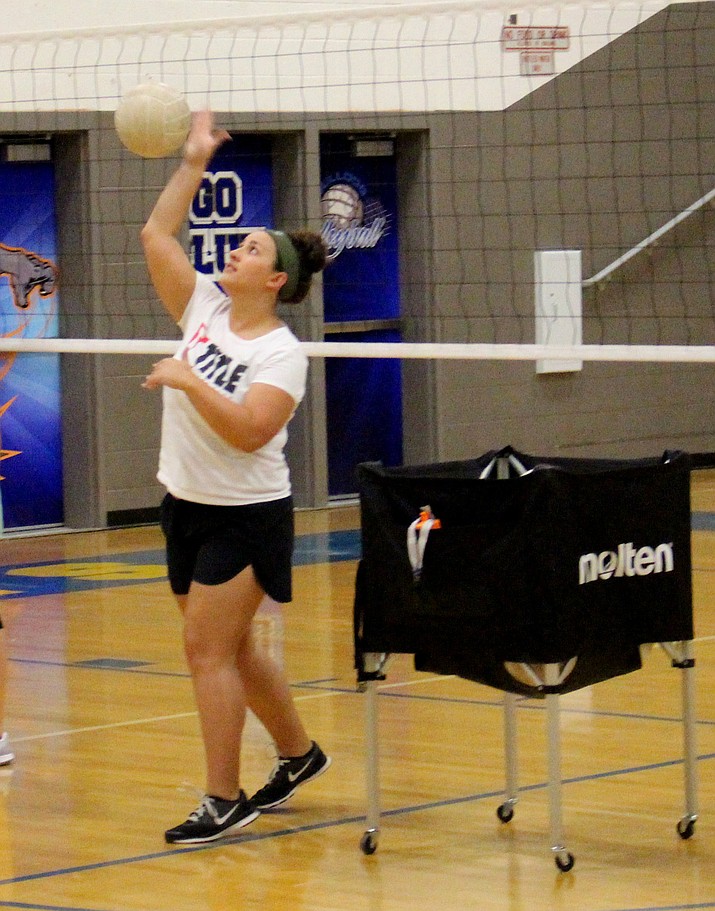 Photo by Shawn Byrne.

Originally Published: August 19, 2016 6 a.m.
KINGMAN – A fourth coach in four years puts any high school athletic program on the verge of irrelevancy, and Kingman High School volleyball is knocking on that door.
Last year, with the Lady Bulldogs' third coach in three years, Kingman went 1-15 in the regular season. Molly Creagh has taken over for 2016, and she realizes that feelings may have been hurt.
"I know that with the high turnover rate of coaches the girls feel a bit overlooked or neglected," Creagh said. "But it is my hope that through our triumphs in practices and in games they will feel more connected as a team and regain that trust with their coaches."
Creagh, 24, played club and high school volleyball for Central Park in Kansas City, Mo. She coached Central Park and then Hillcrest in Springfield, Mo., while attending Missouri State and majoring in kinesiology. Creagh transferred to KHS from Mt. Tipton in Dolan Springs for a teaching physical education position.
"Molly does have some volleyball experience as an assistant varsity and freshman coach," said KHS athletic director John Venenga. "She's young and she's going to make mistakes, but we know that. She's enthusiastic."
The Lady Bulldogs' recent history and the struggles of last season has Creagh beginning fresh with the basics.
"My main goal for the program this year is to improve our hustle and fundamentals," she said. "My assistant coaches (Brandi Bundy and Amber Sanders) and I have agreed that this program needs more conditioning to make us faster, stronger and more focused."
Kingman has nine newcomers to the varsity roster and only three returners: seniors Anyssa Fuhrmeister and Skylar Fuhrmeister, and junior Courtney Mossor. Creagh said she joined the program to help her players find their full potential.
"These ladies have passion for the game," the coach said. "I'm excited to help them grow stronger mentally and physically to help them reach their goals."
Kingman scrimmages Lee Williams at 5 p.m. Wednesday at KHS. The Lady Bulldogs then open the regular season at Lake Havasu Aug. 31.
More like this story