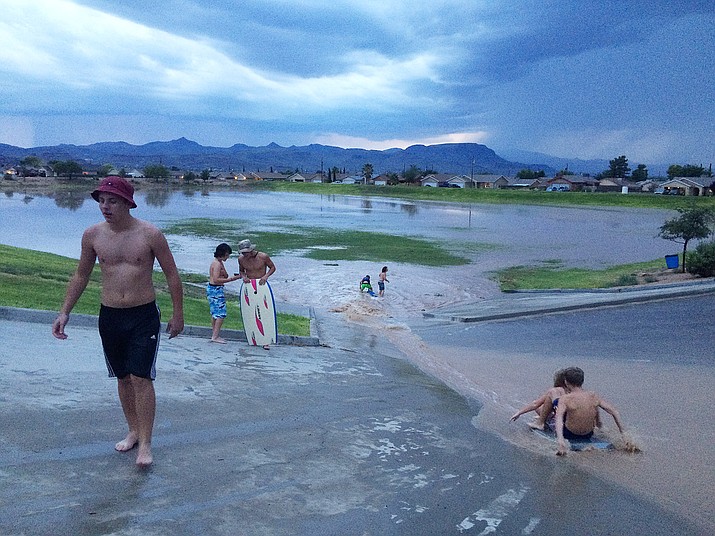 Photo by Aaron Ricca.

Originally Published: August 24, 2016 6 a.m.
KINGMAN – The sky was lit up in all directions for hours and roads turned to rivers as storms battered Mohave County Monday evening.
According to the Mohave County Flood Control sensors, as of 11 a.m., Tuesday up to 2.5 inches of rain has fallen in some parts of the county.
Units from the Northern Arizona Consolidated Fire District and Kingman Fire Department responded to a reported lightning strike in the 2300 block of Suffock Avenue around 5:30 p.m.
A tree had caught fire and electric meter box destroyed. Rain knocked down the tree fire and UniSource cut power to the electric lines and utility meter. No injuries were reported.

NACFD Chief Pat Moore said there were also alarm activations and medical calls.
Mohave County Board of Supervisors Chairwoman Jean Bishop said she received two storm related phone calls from Golden Valley residents.
"One was regarding a retaining wall made of tires that was washed away, causing damage to a neighboring property and the other was from a lady who was concerned her non-maintained county road was being "destroyed," she said. "Both calls came in around 5 p.m. while the storm activity was occurring and the complaints were forwarded to the appropriate departments," said Bishop.
Kingman Unified School District sent out an automated phone call about 7 p.m. alerting residents of the Golden Valley and North Stockton Hill areas that buses will only run on paved roads.
According to the National Weather Service, warmer and mostly dry conditions are expected Wednesday with another chance of thunderstorms in Northern Mohave County.
To see county rainfall levels, go to the Mohave County Flood Control District website at http://weather.co.mohave.az.us/.