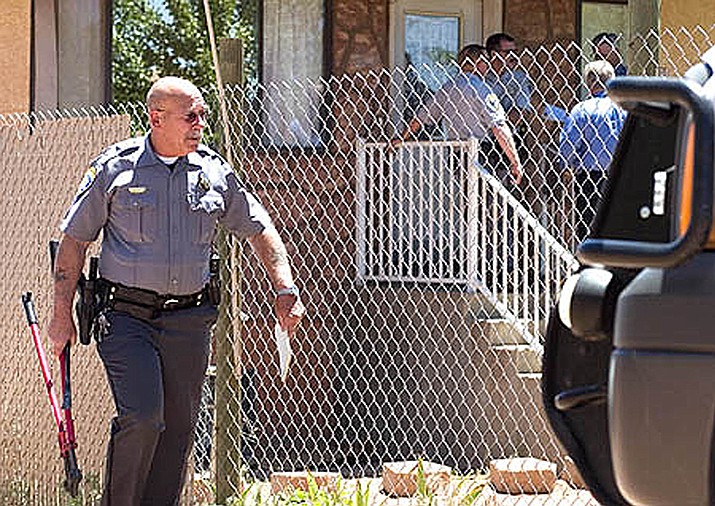 Originally Published: August 25, 2016 6:02 a.m.
KINGMAN – It's no secret the Mohave County Sheriff's Department could use some more muscle.
To help better understand challenges faced by MCSO, Chief Deputy Sheriff Rodney Head recently spoke to the Miner about the departments' workload.
"Our department is spread thin," he said.
Mohave County is the fifth largest in the contiguous United States, covering more than of 13,000 square miles – almost twice the size of New Jersey – with a population of nearly 205,000. A main office in Kingman and substations in Mohave Valley, Lack Havasu City and Beaver Dam are tasked with preserving the peace and responding to emergencies across the vast landscape.
Boots on Ground
Head said as of the latest budget approval, there are now 87 sworn positions funded, eight of which are currently vacant. Of those positions, 79 are filled, with 13 in some phase of initial law enforcement training. Six are in the Field Training Program and seven are attending a law enforcement training academies in Lake Havasu City and Phoenix.
The department has 51 deputies and 11 sergeants assigned to patrols. Of those 62 positions, 13 are in training and four are vacant.
The District 1 Kingman area – which includes Butler, Golden Valley, Valle Vista, Wikieup, Chloride and Dolan Springs – has 25 deputy and five sergeant positions assigned to patrols. Of those 30 positions, six are in training and one is vacant.
The Sheriff's Office has 62 patrol vehicles that are assigned to individual deputies, and has six additional vehicles for use when the assigned units are being serviced, or out of service.
"Kingman area deputies are assigned patrol schedules generally based on calls for service loads," he said. "With current staffing, the average number of deputies on at any given time is four, including a sergeant."
The Search and Rescue function is staffed by a deputy, and sergeant who is the Search and Rescue coordinator. The deputy position is currently vacant. Kingman, Bullhead City, Lake Havasu City and the Arizona Strip each have their own functioning volunteer Search and Rescue unit with its own command structure.
Crime Rates
Head said the most common crimes for Mohave County and Kingman areas vary.
"From a criminal standpoint, burglary, theft, domestic violence and disturbance calls are the most common," he said. "From an order maintenance standpoint, traffic accidents, citizen assists, and welfare checks are the most common."
Crimes that receive the quickest response are any category involving the imminent threat of harm to a person, followed by the imminent threat of damage or theft of property.
Response Times
Head said five minutes is the preferred response time to any crime in-progress. Those times are affected by geography, weather and location of the call. The sheriff's office doesn't have data to compare response times in other Arizona counties.
Response times have been affected by historical highs and lows of department vacancies.
According to Head, the sheriff's office maintained the lowest vacancy rates between 2005 and 2010. Prior to 2005, and the most recent 26 months, MCSO has experienced higher turnover and thus a higher vacancy rate.
Response Time Challenges and Complaints
"The sheer size of the county and the expansive area covered by the Sheriff's office is the major challenge to response times," he said. "When coupled with the level of staffing, response time to criminal incidents – especially in outlying areas – is a challenge."
Head said response time in general is the biggest complaint from residents in the outlying communities, "especially when the response is in relation to a crime that does not warrant an immediate response to protect life or property."
Outside Input and Solutions
County businesses were asked about their experiences. Maverik Adventure's First Stop in Golden Valley declined to comment. A representative from The Outpost in Golden Valley said 20 minutes is typical.
"They're out here in no time flat. 45 minutes to half an hour," said Teresa Curtis, employee and resident at the Wikieup Trading Post Motel. "We're really proud of them."
"The response time is not going to improve until there is sufficient number of deputies," said John Gillette, a candidate for sheriff and former law enforcement officer. "It's not fair to the citizens or the deputies."
He said not only are more deputies needed but that they need to be strategically placed to effectively get to a scene.

Head said geography is always going to affect department operations.
"The county is so large and spread out, that's always going to be a factor in response times."
He recommended residents in the outlying areas be prepared for emergencies and wait times between calls and deputy response.
"Emergency preparedness isn't just about crime," he said. "There's weather and the possibility of natural disasters."
He strongly suggested having an emergency preparedness kit with at least three days of food and water.
"In addition to that, people can be their own best crime prevention," he said. "Make it where it's not easy to walk into your house or yard. Secure your residence and your property."
Head stressed that situational awareness and communication can be a buffer to nefarious activity.

"Know your neighbors and know who should be in your neighborhood," he said.