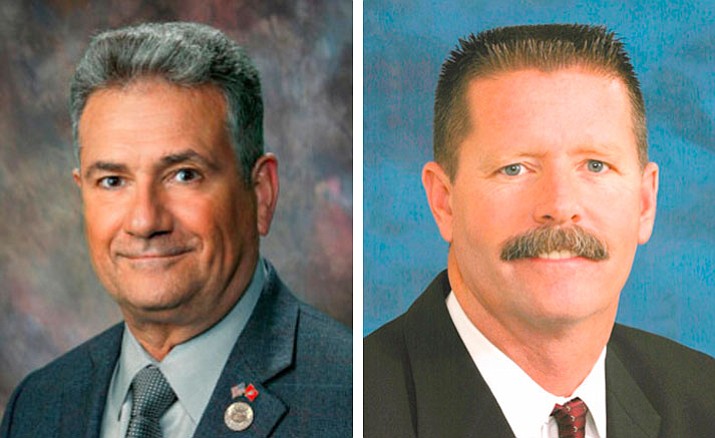 Originally Published: August 26, 2016 6:01 a.m.
Borrelli's Rant
"Here's the thing Ed. If these ignorant, c—sucking idiots want to vote for that f—— phony, lying piece of s—, they can get what they deserve. Another f—— senator, a senator that did absolutely nothing for this district except piss everybody off in Phoenix, to include the f—— governor. And now how is he going to act when he goes back to Phoenix with a f—— governor that he's already called a f—— RINO and a liberal? Do you think we're going to get any support?"
KINGMAN – Legislator Sonny Borrelli said his profanity-laced rant released to Capitol Times Thursday was a private conversation and wasn't meant for public ears.
The Arizona House of Representatives District 5 Republican is running for the District 5 Senate seat against former state senator Ron Gould, and says Gould has sunk to a new low. Borrelli first heard about the recording Wednesday but doesn't know who exactly released it.
Borrelli said Ed McInerney, husband of sheriff's candidate Cori Merryman, called him around 12:30 a.m. Aug. 16. Borrelli was unaware the conversation was being recorded.
"I thought we were having a private conversation. I took the bait and spoke freely," he said. "Would I do that at a podium as a member of the House? No."
"This was politically motivated and overall sleazy politics," he said. "I apologize, it wasn't for public ears."
Borrelli was more concerned about the ethics of someone with such close ties to law enforcement.
"Do we want someone in the sheriff's office who secretly records private citizens," he asked. "The real issue here is the ethics of Ed McInerney."
Borrelli said part of the reason this may have happened is former Mohave County Republican Party District 1 Director Steven Robinson's unofficial support of Borrelli. Robinson has helped Borrelli and other candidates with their campaigns. He has also taken swipes at Gould on social media.
McInerney, owner of E-3 Arms factory in Lake Havasu City, said he and Borrelli were texting back and forth over campaign issues the night of Aug. 15 when McInerney called Borrelli on his business cell phone. McInerney's business policy is to record calls for legal and safety reasons.
Later on Aug. 16, he played the recording back for a group of undisclosed people, one of which who also recorded it.
McInerney said he knows who made the recording. That person may or may not have taken it to Capitol Times.
"I'm going to ask that they come forward for me," he said. "I know he will."
McInerney has thrown numerous allegations against Robinson and sheriff's candidates Joe Archie, Doug Schuster and Robinson.
"The voters need to know who's running for sheriff here," he said. "It's no bueno."
Borrelli said he felt the release of the recording was revenge for him not supporting Merryman. He said he's friends with many of the sheriff candidates and wasn't planning to endorse any of them.
Borrelli felt that McInerney was trying to get him to denounce Steve Robinson as a supporter.
"He doesn't work for me," Borrelli said of Robinson. "He's a private citizen. He has First Amendment rights."
Borrelli said incidents like this always concern him, but he wasn't worried about losing votes.
"People who aren't going to vote for me aren't going to vote for me," he said. "I'm not going to win them over."
He's been contacted by a few constituents since the release of the recording. He wants constituents to read past the headlines.
"If you heard the language, it wasn't intended for you," he said. "My trust was violated by someone acting as a friend to gain leverage."
More like this story