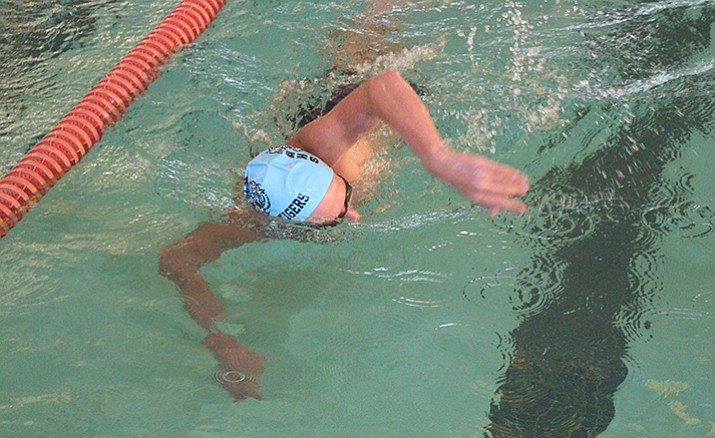 Originally Published: August 26, 2016 6 a.m.
KINGMAN – The three high schools and the six teams that represent them have a combined total 41 swimmers jumping into the pools this fall. All 41 will compete in Division III trying to earn a lane at the state championship meet at the end of the season.
In order to advance to state, a swimmer must have a time in the top 24 and relay teams must be in the top 16.
The 10 swimmers at Kingman Academy have set the top 16 at the Oct. 28-29 regional meet in Yuma as their goal, and the girls relay teams are swimming for the top eight and a spot in the regional finals.
"What I find impressive about this group is that without prompting when filling out interest cards separately, they returned the same goal," said KAHS swim coach Teri Rose. "They hold themselves and each other accountable to the established team goal. Team is first and personal is second with them. However, they all understand that this goes hand in hand and that it's the team that makes you better personally."
Kingman Academy hosts an Arizona Interscholastic Association qualifying meet on Sept. 10 at Centennial Park. Nine teams have been assigned to the meet and there are another four or five teams that Rose is waiting to hear from.
"I'm really excited for this season," the coach said. "We have new swimmers who will add depth to our squad and are capable of scoring points for the team."
Girls Roster – Seniors: Sofia Depner, (all strokes, fly, IM), Victoria Depner (free, breaststroke), Stasi White (breaststroke, butterfly). Juniors: Kayleigh Wright (backstroke), Brianna Holloway (breaststroke, fly). Sophomores: Laura Welch (free, backstroke). Freshmen: Callie Wright (free, backstroke, IM).
Boys Roster – Freshmen: Nic Depner, (freestyle, all strokes), James Scholl (free, breaststroke), Kaden Bean.
KHS' numbers up
The Kingman Bulldogs have a combined number of 14 for its boys and girls teams.
"We have a lot of talent on the Kingman Bulldogs swim team," said coach Jerusha Presnal. "The team is growing and there are many new and returning swimmers this season. I believe that this is going to be a great year for the Kingman High School swim team."
Presnal said she expects seniors Meghan Yingling and Chance Robertson to do well in their fourth year of swimming for the Bulldogs.
Roster – Chance Robertson, Chelsea Heitman, David Rivers, Drew Hancock, Eridanus Rodriguez, Katrina Sears, Lauren Jonk, Madelynn Pace, Martha Aguilar, Meghan Yingling, Ramon Chavez, Rendall Pace, Rosanna Volk and Spencer McCroy.
LWHS jumps in
Lee Williams joins the swimming fray with its first season of boys and girls swim. The Volunteers have 17 swimmers on the squad.
LWHS swim coach Caleb Presnal has begun his difficult task of not only learning who his swimmers are but what events they're strongest swimming. Diego Narvarte and Marco Narvarte are expected to lead the Volunteers boys squad.
More like this story