Originally Published: August 28, 2016 5:57 a.m.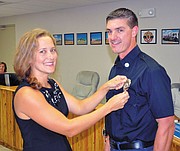 Michael Eaton proudly pins a firefighter badge on his grandson Hunter Davis during a swearing-in ceremony at the monthly Golden Valley Fire District board meeting Thursday.
Michael Eaton travelled about 1,700 miles from Illinois to witness his son becoming a fulltime employee of the fire district.
Firefighter-EMT Davis worked as a "pay on call" firefighter for 12 months prior to being hired as a fulltime employee.