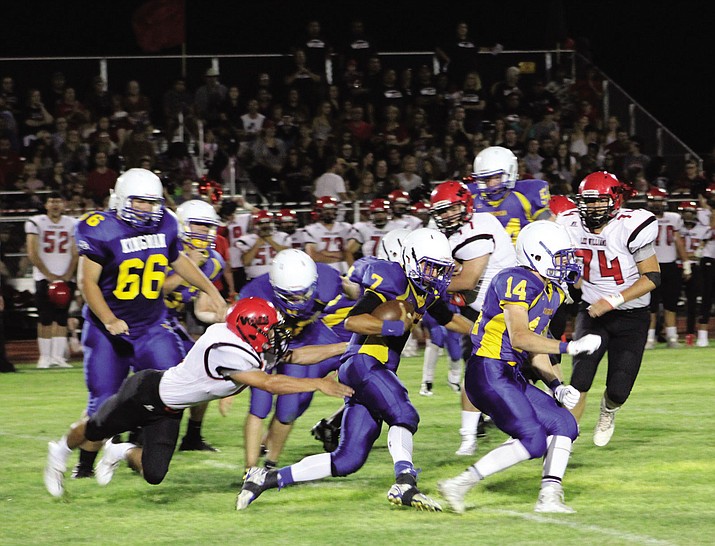 Photo by Shawn Byrne.

Originally Published: August 28, 2016 5:57 a.m.
KINGMAN – It may be hard to believe a 28-6 loss was closer than it looked, but the Kingman Bulldogs have a lot to be positive about after falling to Lee Williams Friday at KHS.
Kingman's defense attacked the gaps and the Bulldogs' energy level was sky high.
"The effort was outstanding. It's encouraging," said KHS first-year coach Cam Wierson. "I'm extremely encouraged right now. We're going to win some ballgames."
Lee Williams (1-0) slowly pulled away, it wasn't an onslaught. The Vols led 6-0 at the end of the first quarter and 20-0 at the half. The Vols went for 352 total yards, but those yards were hard earned.
"Kingman looks good this year and they've improved a lot," said LWHS running back Paul Giglio after rushing for 158 yards and two touchdowns. "It's a good football team."
The Bulldogs' defense fought hard, but Kingman as a whole just wasn't as strong as Lee Williams.
"They were better in the weight room over the summer because our kids aren't committed to that. Yet," said Wierson. "If you don't win in the weight room, you won't win on Friday nights. We got our butts kicked in the weight room all summer long."
Kingman managed only 131 yards in total offense. Running back Jeremy Stewart led the way with 84 yards rushing on 13 carries. His 27-yard touchdown run late in the game prevented the Vols from posting a shutout.
"We had the ideal offensive play against the ideal defense for it, but we couldn't win the point of attack," said the coach. "We've got to be able to move a guy to run the football, but we couldn't move that guy."
Kingman could only get 27 yards through the air using a dual-quarterback threat. Darrell Mitchell went 3-for-8 for 12 yards, and Miguel Salinas was 2-for-6 for 15 yards. Each threw an interception.
Kingman remains home this Friday. The Bulldogs host Kingman Academy (0-1). The Tigers fell to Bourgade Catholic, 28-27.