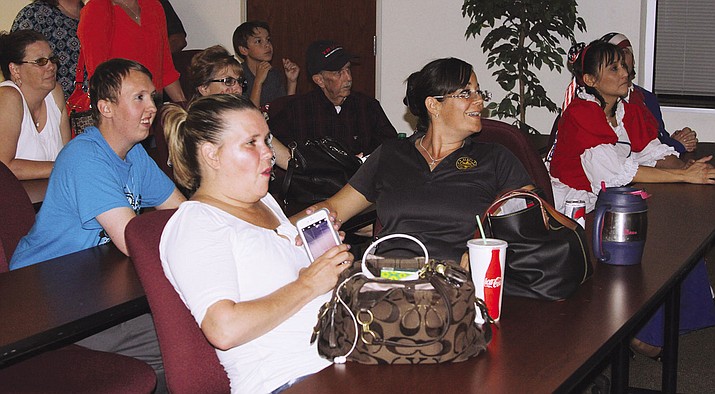 Photo by JC Amberlyn.
Originally Published: August 31, 2016 6 a.m.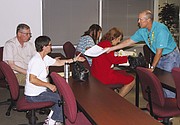 KINGMAN – Kelli Ward's longshot didn't pan out, the incumbent supervisors might be more popular than you think, and Doug Shuster was leading the sheriff's race as primary election Tuesday wound down.
No totals are official and final results were not posted at deadline.
Ward, who represented Mohave County in the state Senate before resigning to challenge John McCain, outpolled the incumbent in Mohave County. McCain dominated elsewhere, and the Associated Press called the race for McCain shortly after the polls closed.
In the race for the five supervisor seats on the Republican side, Gary Watson doubled Jeffery Jolly's total in Dist. 1, 1,711-886. Hildy Angius was unopposed in Dist. 2, Buster Johnson outpolled Gary Kellogg 1,791-1,151 in Dist. 3, and Jean Bishop's 1,540 votes were well ahead of Rick Armstrong (777) and Mervyn Pitchfork Freedom (781) in Dist. 4. In Dist. 5, incumbent Steve Moss pulled in 63 percent of the vote.
There was only one Democrat primary, with Denise Bensusan holding a slim 329-322 lead over Janice Palmer. The winner will oppose Watson in the November general election.
In the sheriff's race, Shuster tallied 3,938 votes (26.75 percent) to finish ahead of runnerup Rodney Head, who totaled 3,205 votes. Joe Archie (2,745) and Cori Merryman (2,539) also had strong showings, while John Plough (1,117) and John Gillette (1,084) failed to connect with enough voters.
In the race for Kingman mayor, Monica Gates led with 1,414 votes while first term incumbent Richard Anderson totaled 1,311. Joe Longoria (685) and Harley Pettit (646) rounded out the totals. Gates served as mayor from 2004-2006.
There were three openings on the City Council, with Travis Lingenfelter finishing first with 2,588 votes. He's followed by Gary Rucker (1,978) and Jamie Scott Stehly (1,931). Holdover Lawrence Carver was fourth with 1,568 votes, and David Wayt was fifth at 1,419.
In contested county races, Kristi Blair led Kim Stewart for recorder, and Jeanne Kentch led Nancy Esquibel for assessor.
In the state Senate Dist. 5 race, Sonny Borrelli has a 616-vote edge over Ron Gould, 7,489 to 6,873 in a race where the two candidates clearly didn't like each other. Borrelli is trying to step up from the state House, while Gould served in the Senate until he was term-limited four years ago.
The race took a strange twist in recent days when a curse-filled recording of Borrelli surfaced. The recording was made without Borrelli's knowledge by Ed McInerney, the husband of candidate Merryman.