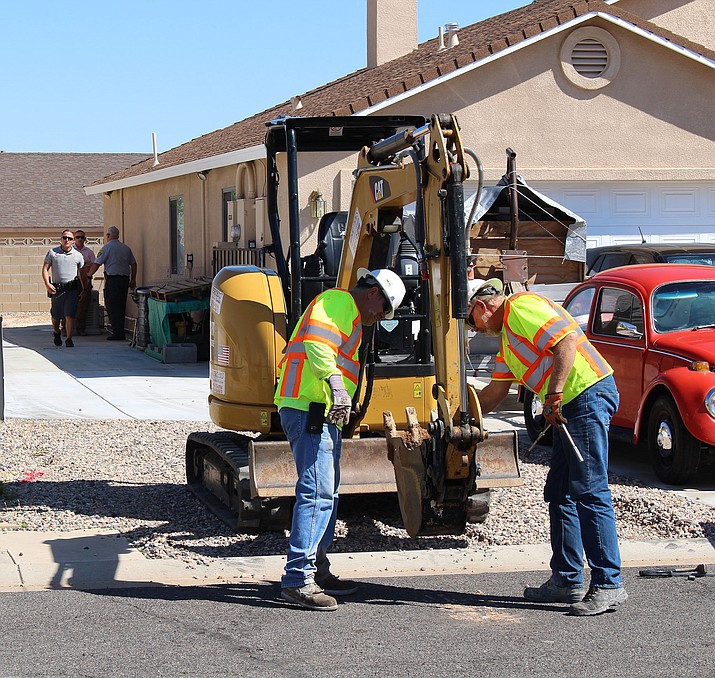 Photo by Bob Leal.
Originally Published: August 31, 2016 5:58 a.m.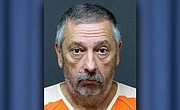 KINGMAN – After busting up concrete all day Monday in the backyard of a home on East Lass Avenue, the Mohave County Sheriff's Office discovered a body during the early evening.
The medical examiner is busy identifying the body and determining the cause of the death, said Trish Carter, a spokesperson for the MCSO.
The body is believed to be John Holland, 65, of Kingman, after Richard Polaski, 63, of Kingman, confessed July 16 to authorities that he stabbed Holland to death in July of 2015 and buried the body in his backyard.
Polaski sits in the Mohave County Jail on a number of charges, including first-degree murder. He told authorities he forged documents and obtained power of attorney over Holland after his murder for financial gain, according to a search warrant affidavit.
Polaski tried to commit suicide by taking over-the-counter pills in Laughlin on July 9. With apparent remorse, Polaski told Las Vegas Metro Police that he buried a body in the backyard of his house in Kingman.
Polaski told investigators that he got into an argument with Holland before he killed him. Holland was said to have had "upwards of a few million dollars in a Merrill Lynch account which he gained access to by forging documents and obtaining a power of attorney over (Holland) after his murder," court documents said.
During the investigation, authorities reviewed video surveillance from the Tropicana Casino in Laughlin where Polaski was speaking with a bartender, identified as Mark Lynch, the affidavit said.
Lynch was given envelopes stuffed with large amounts of money by Polaski. Lynch concealed the envelopes in a drawer, and then a short time later a bellhop went into Polaski's hotel room and transported a duffel bag to Lynch as he was still working the bar in the casino.
Shortly afterward, Lynch clocked out and left the property with a woman said to be his wife, who also works at the Tropicana, as a cocktail waitress, according to the affidavit.
Shannon Lynch, also known as Shannon Reilly, who is Mark Lynch's sister, placed $78,000 of the money in a safe deposit box in the Wells Fargo Bank in Bullhead City, according to the affidavit. Polaski told authorities Shannon Lynch has a large sum of Holland's money.
It is not known who, if anyone else, will be charged in the case.
Related Stories