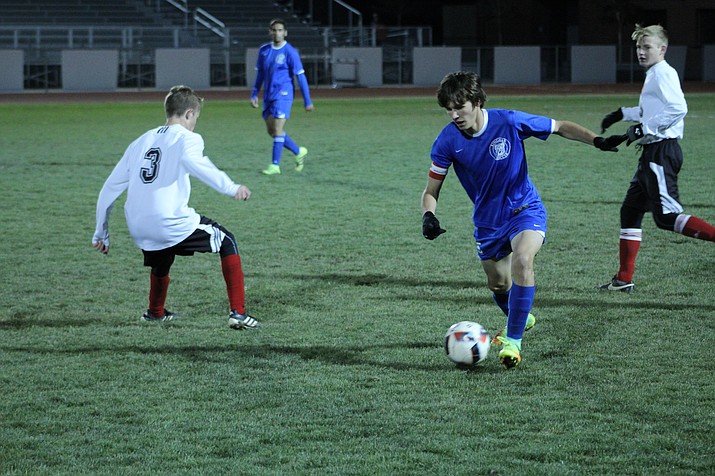 Photo by Shawn Byrne.

Originally Published: December 1, 2016 6 a.m.
KINGMAN – For the first 73 minutes of Tuesday's match between Lee Williams and Kingman at LWHS, the Volunteers seemed to have Kingman's number. That changed rapidly as the Bulldogs overcame a 25-minute, 1-0 deficit to snatch victory from Lee Williams in overtime, 2-1.
Lee Williams (0-1, 4A Conference) and Kingman (1-1, 3A) were in a defensive struggle throughout the first half. While the Bulldogs did a good job of keeping the ball in front of Lee Williams keeper River Sutton, they couldn't find the goal. The Volunteers had several runs at Kingman keeper Britton Ogle, but they went empty as well.
The Vols grabbed its lead in the 49th minute when Jose Castaneda found himself at point-blank range in front of Ogle and put the ball into the right side of the goal with a left boot. Though Castaneda scored, Ogle finished with 20 saves with plenty of them belonging on the highlight reel.
"Ogle played great," said KHS boys soccer coach Kevin Roberts. "Jeremy Stewart and Manuel Tadeo had some good defensive stops for us."
Sutton and the Vols' defense almost got the shut out, but Kingman's Brett Bergin blasted a 45-yard free kick in the 74th minute to tie things up, 1-1.
That score stood at the end of regulation and the match went into OT. Kingman got the upper hand in the 82nd minute when Chandler Baca scored from the right side of the pitch about 20 yards out with an assist from Tristan Hanks.
Kingman's defense shined the rest of the way, especially in the second 10-minute OT period. The match finished with most the action in front of Ogle, but Lee Williams could not find the net again.
"We lost the game on set plays," said LWHS boys soccer coach Gabe Otero. "Ultimately, they capitalized better than us on set plays. The exciting part for me is my boys played their hearts out."
Both teams return to the pitch today. Kingman plays at Lake Havasu, and Lee Williams hosts River Valley. Both games kick off at 6 p.m.