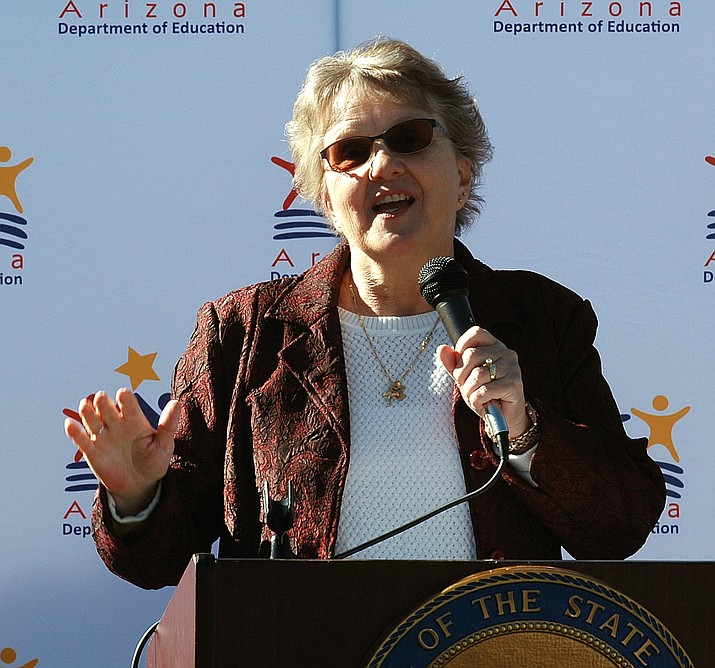 Photo by Howard Fischer, for the Miner.

Originally Published: December 1, 2016 6:03 a.m.
PHOENIX – State schools chief Diane Douglas wants an immediate boost in state aid to schools plus additional dollars to attract and retain teachers.
In a plan unveiled Tuesday, Douglas also wants the state to live up to its obligation to pay for new schools rather than once again putting the burden on local taxpayers. And she said lawmakers and the governor should boost the money they are giving schools for maintenance.
The $680 million price tag for what she wants would be above and beyond the $3.5 billion voters approved earlier this year in Proposition 123 for schools in the coming decade – about $350 million a year or about $300 per student.
Douglas defended the expensive proposal.
"As a state, do we want Arizona to have the best education system in the nation and in the world for our children, or simply the cheapest system we can get by with politically?'' she asked.
And she said there is money out there, pointing out the state has about $450 million in its "rainy day'' fund.
Douglas deflected questions of whether it is responsible to drain the money that is set aside to deal with an economic downturn, saying where to find the dollars is ultimately up to the governor and lawmakers.
"I don't appropriate money,'' she said, saying she just doing her job of "talking about what our state needs to appropriately educate our children.''
Anyway, Douglas said, using the rainy day fund is just one option.
"We can work to get back our federal lands,'' she said, echoing a theme of some in demanding the federal government turn over its holdings -- other than parks and military bases -- to the state to sell off or lease.
"We can look to revenues coming in higher than projections as our economy continues to recover and, hopefully, improve,'' Douglas said.
But the most recent estimates of legislative budget staffers figure that the nearly $9.7 billion Arizona will collect next budget year leaves only about $25 million for new and expanded programs once the state funds existing services and the anticipated growth in population.
Douglas' plan starts with a demand for an immediate $200 million increase in basic state aid, or about $180 a student, on top of the approximately $3,600 schools get.
But Douglas has a separate request for an additional $140 million she said would provide a desperately needed 5 percent increase in teacher salaries.
She said that was a top priority of those she spoke with during her series of statewide meetings with local educators and parents. And Douglas said the problem is particularly acute along Arizona's borders with other states.
"Administrators spoke to me about the struggles that they had keeping their teachers in the schools when the teachers could go across the state lines and across the border and earn a much higher salary,'' she said.
"Our children deserve to have the very best of our teachers in our classrooms,'' Douglas continued. "And we also know that the low salaries are a contributing factor to 20 percent of our brand new teachers leaving in the first year.''
It doesn't stop there. Douglas cited research showing that in 2014 another 20 percent of second-year teachers left the profession in Arizona.
She said money matters.
Douglas said the National Education Association put the average classroom teacher salary nationally during the most recent school year at $58,064. By comparison, she said the same figure for Arizona was $45,477.
And she estimated the average starting salary for Arizona teachers at less than $32,000 a year.
Douglas said some districts used the additional dollars they got from Proposition 123 for teacher salaries but pointed out that was not a mandate in the plan voters approved.
She said if lawmakers provide the extra $140 million it would be up to them to decide how to earmark the dollars. But she does have some preferences.
"I would tend to encourage for that particular area we increase teacher salaries or we reduce class size,'' Douglas said, saying her preference is for the former.
Douglas also lashed out at lawmakers for failing to properly fund the Students FIRST program.
In 1994 the Arizona Supreme Court ruled that putting the financial burden of building new schools solely on local taxpayers created constitutional inequities, with some property-rich districts able to afford a domed stadium while others in poorer areas had crumbling bathrooms and overcrowded schools.
The fix enacted in 1998 was designed to make the state responsible for new school construction and repairs. It hasn't happened.