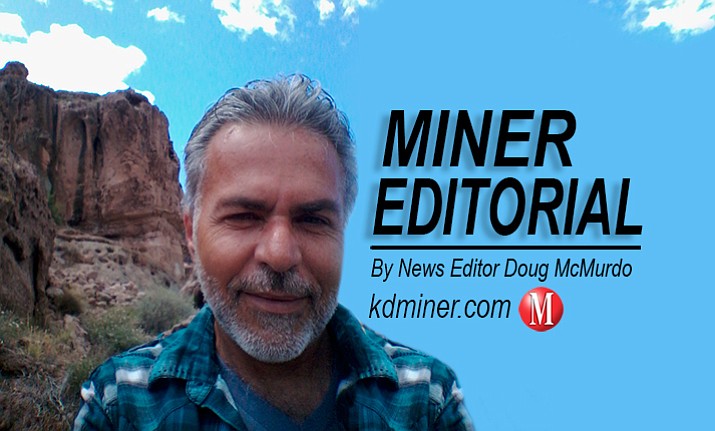 Originally Published: December 4, 2016 6 a.m.
Mayor Richard Anderson's term has ended after an unsuccessful bid for a second two years at the helm.
Vice Mayor Carole Young went out on her own terms after serving on the City Council for years.
Councilman Larry Carver also went out his own way, but not until he saw the writing on the election wall. Ken Dean was appointed to fill a midterm vacancy and was never more than a seat warmer, but he was a competent and engaged seat warmer.
None of them did anything great while they were on the council. They didn't solve the city's perennial budget crisis. They didn't find a way to bring in new revenue without taking it off the backs of citizens and they didn't lower our sewer bills to something more reasonable.
But neither did they do anything terrible. There were no scandals. At least none that involved them. No nepotism. No corruption. And if Kingman Crossing ever comes to fruition, this is the council that got the ball rolling - especially Anderson.
I didn't always agree with the decisions these four people made every two weeks for the years I covered them – but I never thought their decisions weren't based on what they believed was the right thing to do, except for once or twice when they made decisions based entirely on political expediency.
While Young and Dean opted not to seek another term, Anderson and Carver had unfinished business and wanted a chance to see it through.
Carver did poorly in the primary, finishing with enough votes to go to the general election, but he was far from the top vote getters.
Anderson lost to former and now current Mayor Monica Gates. The new councilmembers would be wise to listen to Councilwoman Jen Miles, now the senior member with three years under her belt, and to Councilmen Mark Abram and Stuart Yocum, who can bring them up to speed on the realities of governing a city that is at a critical crossroads.
Clearly, Gates, Travis Lingenfelter, Jamie Scott Stehly and David Wayt want to see Kingman grow and prosper and become financially stable and business friendly and do all of the things that make a city a place people are proud to call home.
But so does Anderson and Carver. So why were they defeated? It's easy to figure out what doomed Carver.
He was the only candidate who had the courage to speak the truth about the city's never-ending budget woes. He said, knowing it could cost him too many votes to overcome, that the city needed to establish a primary property tax in order to stabilize revenues.
Politicians can lie through their teeth and never suffer consequences. It's when they speak the truth that they plunge into boiling water.
But what turned voters against Anderson? I have two theories on this. While an able mayor and an outstanding representative for our city, Anderson is not what one would call a gifted public orator.
Gates, on the other hand, is engaging in public. She makes solid eye contact. She smiles. She makes whomever she's speaking to feel special.
That still doesn't explain it. Most residents who voted for one or the other did not attend a single campaign event for either, so they have no way of knowing who is an effective public speaker and who isn't.
What doomed Anderson and Carver, and would have doomed Young and Dean's chances for re-election, dates back to a little more than a year earlier.
It was November of 2015 when agents with Homeland Security and the state Attorney General's office served a search warrant at City Hall.

Their target? Former longtime budget analyst Diane Maxine Richards, who allegedly stole more than a million bucks from the city, – us, in other words – over several years.
The council took a lot of grief over that embarrassment, but much of it was undeserved. Still, captains go down with the ship and what they deserve has nothing to do with it.
What Anderson, Carver, Young and Dean do deserve, however, is our thanks for being diligent in handling the city's business. And Gates, Lingenfelter, Stehly and Wayt deserve our patience. Their learning curve is steeper than White Cliffs.