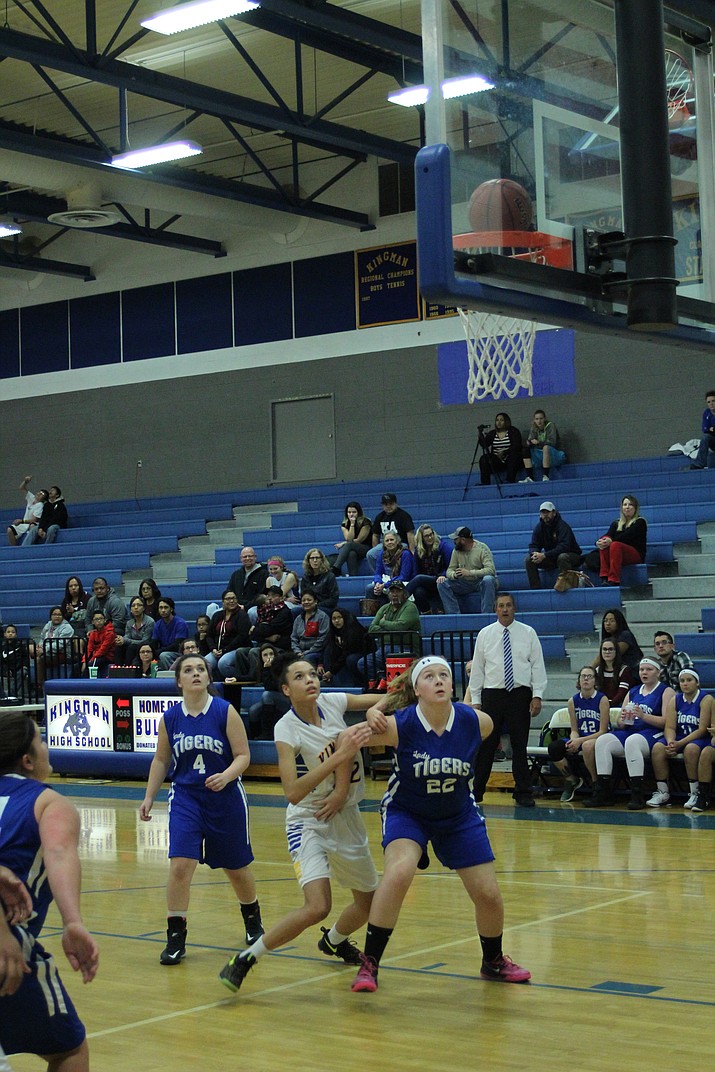 Photo by Shawn Byrne.
Originally Published: December 4, 2016 6:01 a.m.
KINGMAN – Despite going scoreless for nearly seven minutes in the fourth quarter, the Kingman High Lady Bulldogs scored five points in the final 31 seconds to hold off Kingman Academy Thursday at KHS, 49-37.
Kingman (2-2, 3A Conference) led 44-27 after Keara Tauta hit her second consecutive 3-pointer to open the fourth quarter for the Lady Bulldogs with 7:22 left in the game. Tauta finished with 11 points.
Kingman Academy (0-4, 2A Conference) managed to cut the lead down to seven at 44-37 with less than a minute remaining, but the Lady Tigers couldn't get any closer.
"Wish we could have played the whole game like we did in the second half," said KAHS girls basketball coach Garth Steed. "We made good progress."
The Lady Tigers trailed the entire game after Kingman's Cheri Roundy opened the game with a 3-pointer. Roundy finished with a game-high 17 points. The Lady Bulldogs led 12-5 at the end of the first quarter and 32-15 at halftime.
"We were a little cold and frantic in the first half," Steed said.
Courtney Mossor added seven points for Kingman.
Kingman Academy was led by Amberlee Steed's nine points. Kassidy Campbell finished with seven, Chloe Elliott and Ashlee Steed each scored six, Shaunti Short added four, Kirsten Edwards and Erika Delgado each had two, and Jerry Pike chipped in one.
Kingman's two wins so far this season have come at the Lady Tigers expense.
Both teams were at the River Valley Shootout Friday and Saturday. Results from Mohave Valley were not available.
Kingman hosts Parker at 7 p.m. Tuesday as the squads return to the regular-season schedule, and Kingman Academy next plays at Lake Havasu at 5:30 p.m. Dec. 13.
Lee Williams goes 2-0
At Mohave Valley, Lee Williams went 2-0 on Friday beating Mohave 39-17 and moving into one of the semifinal games with a 36-29 win at the shootout.
Madi Arave led the Lady Volunteers with 10 points in the win over Mohave, and Sadie Snay scored 17 in the Game 2 win.