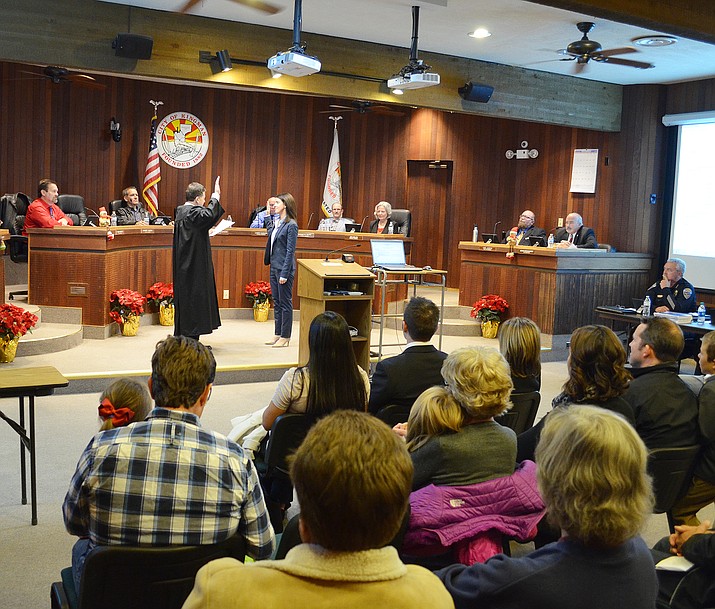 Photo by Aaron Ricca.

Originally Published: December 8, 2016 6:01 a.m.
KINGMAN – A fresh, mostly new City Council wasted no time getting down to business Tuesday night.
Mayor Monica Gates and new Councilmembers Travis Lingenfelter, Jamie Scott Stehly and David Wayt were sworn in after outgoing mayor Richard Anderson and Councilmembers Larry Carver and Ken Dean made statements and wished the new council the best. Carole Young was not present. She was attending funeral services for her husband Emmett "Bud" Young who passed away Nov. 29.
Anderson said one of the first things he and his wife noticed when they moved to Kingman in 2008 was the poor economic state of the city and dilapidated state of downtown. He then watched a national recession slowly creep into Kingman and inflict more damage. He ran for mayor and won – twice.
"We really needed somehow, to find a way to move forward," he said.
Since then, Kingman's economy has grown and its appearance improved (in some places), and that's exactly what the new city leaders agreed to keep doing after taking their seats in the council chamber.

"This election really was about the issues that you, the residents, have identified as priorities going forward," Gates said.
During her inaugural comments and by the end of Tuesday's meeting, with the support of the council, Gates laid the groundwork and gave direction to City Manager John Dougherty to begin scheduling separate agenda meetings for some major local issues.
A Kingman Crossing Work Session
"Voters have expressed overwhelming support for this long overdue project," Gates said. "It's time to make it a reality."
Airport and Industrial Park Improvements
Gates said she and Stehly met with Kingman Airport Authority representatives Nov. 22, to look to improve airport maintenance, infrastructure and overall appearance. She said marketing, the relationship between KAA and tenants, and communication between the city and KAA all need serious improvement.
"The city has not given clear direction and specific performance measures to the airport authority," she said.
Downtown Redevelopment
Councilmembers Stehly and Abram agreed to be part of a team that will work with downtown businesses to continue to revitalize the district and create a business and tourism friendly environment.

"We need to create a vision for our downtown that addresses what we want our downtown to look like," Gates said.
Water Preservation
"We need to create partnerships that will help us to find a solution to this senseless depletion to our aquifers," Gates said. "This must be a priority for our council."
Individual workshops for those matters are already being scheduled for January.
Gates also wants to begin looking for a larger space to hold council meetings. Requesting the use of the Mohave County Board of Supervisors chamber at the county administration building was the first idea.
"Judging by tonight's attendance, I think the city has outgrown its chamber," she said.
Gates thanked voters and invited residents to include themselves in shaping Kingman's future.
"This mayor and council, in partnering with the city manager and staff, city stakeholders, businesses and residents, have the unprecedented opportunity to script our destiny. Together we shall accomplish great things," she said. "Having said that, let's get started."

Also Tuesday
• The council rejected the appointment of Mike Blair to the Planning and Zoning commission.
Gates felt the commission should take the opportunity to review eight other applications that have been submitted for the seat. She said the council should be proactive in engaging more citizens to get involved with local government.
"As much as we respect the many people who have served loyally for years, it's also important we invite new blood and new energy to our boards," she said.
The council unanimously made a motion to postpone an appointment for the commission. All applicants have been invited to attend and speak the next Planning and Zoning meeting Dec. 13, at 6 p.m.
• Kingman may not be saving money on sewer rates just yet. The council voted in November to use money from a $400,000 debt reduction for the Hilltop Wastewater Treatment plant towards a reduction in residential and commercial sewer rates. The new council muddled over ways to use that money to increase the wastewater infrastructure, customer hookups and overall revenue, which can increase rate reductions in the future.

"I'd like to think this is a big picture issue that will benefit Kingman in the long run," said Financial Services Director Tina Moline.
If the council adopted an ordinance, residential and commercial users could've seen a reduction in their water rates by 14.83 percent and 1.21 percent, respectively. The council agreed to postpone a decision until other options can be considered.

• A lengthy discussion concerning flower boxes created debate over the need for downtown beautification and safety concerns over potential sidewalk obstructions.
There were disagreements between project coordinator Rosalie Hunt, downtown merchants and city officials over the design specifications of the brick boxes, maintenance responsibilities and liability to the city from injury to pedestrians and damage to vehicles.
The issue was tabled until further notice.
• The council accepted the donation of a 442-square foot, steel, solar panel-covered Ramada by Unisource Energy for improvements to the Splash Pad at Cecil Davis Park. Unisource Spokeswoman Nikole White said the solar panels will generate enough energy during the year to power the pad for the summer season. The Ramada will provide shade and a gathering place to park visitors.
• A plan to improve traffic circulation and public safety response times across Interstate 40 will have to wait. Kingman Crossing Boulevard would connect Airway Avenue to Southern Avenue underneath I-40. Councilmember Travis Lingenfelter felt he could find a way to possibly combine the Kingman Crossing project with the proposed road. Councilman Mark Abrams agreed.
"I see this as something that could facilitate Kingman Crossing," he said.
The next City Council meeting is Dec. 20, at 5:30 p.m.