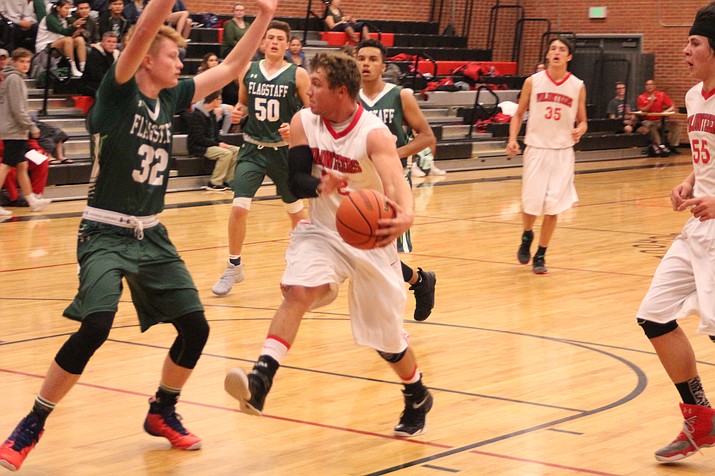 Photo by Shawn Byrne.

Originally Published: December 8, 2016 6:04 a.m.
KINGMAN – Going scoreless in the first quarter of a basketball game makes for a tough uphill climb to get back into the game. Lee Williams paid that price when it fell to Flagstaff in a 4A Conference Grand Canyon Region contest Tuesday at LWHS, 54-35.
The Volunteers could only manage a few field goal attempts during the dry opening eight minutes.
"We came out trying to limit Flagstaff's possessions," said LWH boys basketball coach Cain Atkinson. "We knew they had the ability to score a lot of points."
Lee Williams (2-1, 0-1) made things interesting for a short while by outscoring Flagstaff (2-0, 2-0) by five points in the second quarter to only trail 20-16 at the half.
The buzz off of the possibility of a win was quickly extinguished at the start of the third quarter when the Eagles opened the second half on an 8-0 run and led 38-24 to begin the fourth. The Vols made another run, closed the gap to eight (39-31) but couldn't sustain it as they began making turnover after turnover.
"Our Achilles heel right now is turnovers and not being able to run the offense," Atkinson said. "We let teams' pressure dictate what we do. We settle for a lot of 3s."
A.J. Herrera led the Vols with nine points and Marco Narvarte finished with eight. Chase Williams hit two 3-pointers for six, Parker Taylor added four, Larry Campbell and Kade Juelfs each had three, and Kael Juelfs chipped in two.
Lee Williams next begins play at the River Cities Tournament at River Valley in Mohave Valley Friday.