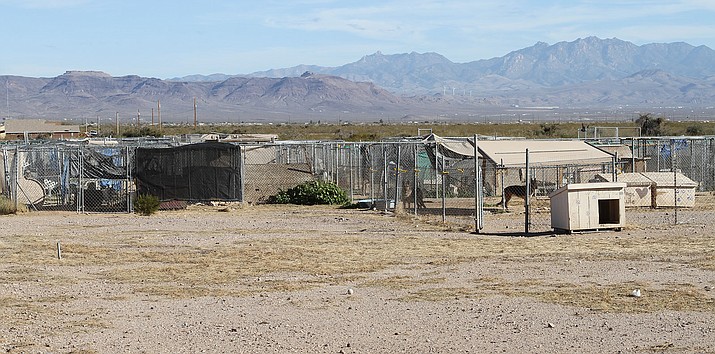 Photo by JC Amberlyn.

Originally Published: December 9, 2016 1:16 p.m.
GOLDEN VALLEY – The vast majority of nearly 200 dogs at the troubled Rescue Unwanted Furry Friends Foundation were well cared for and are in search of their forever home, according to Mohave County Sheriff's spokeswoman Trish Carter on Friday.
Carter said RUFFF has not been shut down, per se, but the home shelter operator Hillarie Allison lives in on the property was deemed uninhabitable on Thursday, when Animal Control enforcement officers armed with a search warrant arrived at the operation in the 1400 block of Laguna Road in Golden Valley.
Animal Control was joined by deputies, code enforcement officers and employees of the county's Environmental Health department.
They found a dozen dogs and three cats inside the home. They were in there due to illness, old age or unable to survive living outdoors. Those animals were taken into custody. Four of the dogs might be infected with Valley Fever. Their blood is being tested, and another dog was taken to a local veterinarian, "as she was covered in ticks, was emaciated, severely anemic and possibly needing a blood transfusion," said Carter.
However, the dogs and cats Allison kept outdoors were well nourished and in good shape. Volunteers continue to care for them, and Carter said these dogs can still be adopted by loving families and individuals.
While the investigation remains active, Sheriff Jim McCabe indicated Allison meant well, but she took on too many animals to properly care for.
"Time and time again, people have good intentions," said McCabe, who will retire at the end of the month. "Somewhere along the line it becomes overwhelming and the animals now become prisoners rather than being rescued."