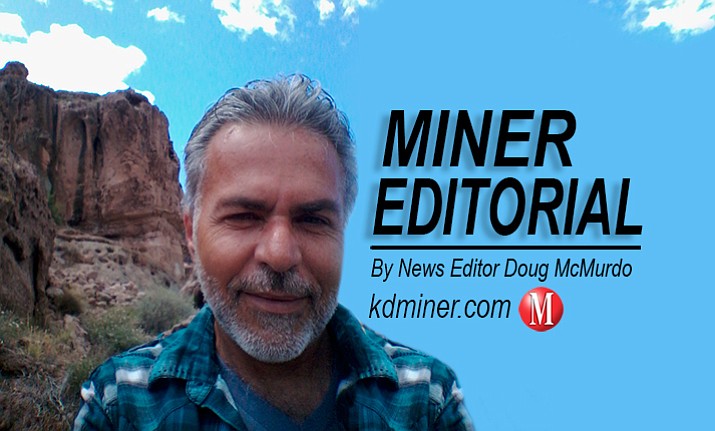 Originally Published: December 11, 2016 6 a.m.
Mohave County should be commended for its rapid response to the Rescue Unwanted Furry Friends Foundation no-kill animal sanctuary in Golden Valley this week.
It must be noted, however, that foundation head Hillarie Allison has been a conscientious caretaker of the roughly 180 dogs living on her Laguna Road property.
All but 15 of them – one dozen dogs and three cats – have been well cared for by Allison and her legion of volunteers.
Let's be careful we don't condemn a woman providing a service most of us wouldn't or couldn't.
And let's look in our hearts to see if we can help take off the load. Mohave County Sheriff's spokeswoman Trish Carter told me the vast majority of dogs are very adoptable. "They just need a forever home," she said. "They are in good shape."
And while Allison might be called an animal hoarder and incapable of doing what she does, this is another example of the person at the end of the line being blamed for a problem that started way before a single animal arrived at her sanctuary.
If you own a pet, you are responsible for that animal. Love it. Feed it. Water it. Keep its shots up to date and keep if contained.
Don't let it sleep around like an amoral playboy or playgirl. Don't let it prowl the neighborhood. Don't let it have litter after litter after litter – litters that wind up in a shopping cart in some shopping center parking lot and, ultimately, at one shelter or another in the region.
If people were more responsible, people such as Allison wouldn't have to work herself sick cleaning up after you and your dogs.
---
The Kingman area has its own serious water worries, but there is a more immediate threat to our future survival.
This week, all of the Colorado River water users, including Arizona, Nevada and California, along with federal Reclamation officials, will meet in Las Vegas.
Their mission will be to hash out an agreement that calls for all users to give up a substantial amount of their river water.
Anyone who has looked at Lake Mead in the past few years can see how far the water level has dropped due to an unprecedented drought that has impacted the American Southwest for more than 15 years. Never before in recorded history has a drought this severe lasted this long.
I don't know as much as I need to know about droughts, but I do know every year that has less than average precipitation requires a year of above average rain and snowfall to even things out. Nobody is predicting more rain than usual to hit the ground over the next decade and a half.
Simply put, everybody is going to have to take a smaller share of river water if the levels of Lake Mead are going to be protected.
The Daily Miner urges those who participate in the meetings to think of the future and come to a consensus that works best for all of us.
Clearly, no state wants to give up more of this precious resource than it has to, so the trick is determining what is the appropriate level of pain for each to endure.
The wildcard is California, if for no other reason than the Golden State has senior water rights and doesn't have to play fair if it so chooses.
But if history is any guide, the arguments between different entities in the same state could derail the plan easier than arguments between states.
"This really is rubber-meet-road time," said Doug MacEachern, the communications director for the Arizona Department of Water Resources.
While Kingman doesn't get any water from the Colorado River, the region would still benefit if the folks in Phoenix Valley, Las Vegas Valley and Imperial Valley in California agree to substantially cut the amount of water each takes from the river.
We're all in the same boat. Let's do everything we can to keep from running aground.