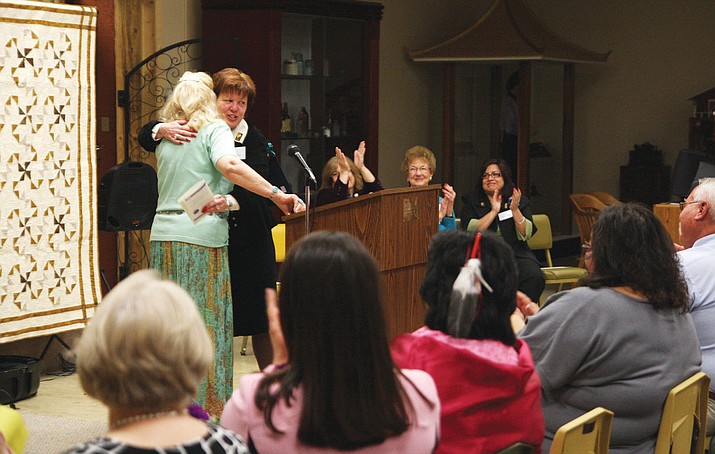 Photo by JC Amberlyn.

Originally Published: December 16, 2016 6:02 a.m.
One of the highlights of every year's calendar is Kingman's annual Women Making History awards.
Nominations are now open for 2017. The year's theme is Honoring Trailblazing Women in Labor and Business.
Nomination forms are available at the Mohave County Library on Burbank Street, the Mohave Museum of History and Arts downtown, the Mohave Community College Student Center at the Kingman campus on Jagerson Avenue, and Peterson Burge Enterprises at 3845 Stockton Hill Road.
Forms also are available online at www.kingmanwomenmakinghistory.com, and by snail mail to: Women Making History Committee
c/o Desert de Oro Foods, Inc.
P.O. Box 4179
Kingman, AZ 86402-4179
Nomination categories include Education, Professions, The Arts, Business, Religion, Health and Medicine, Volunteerism, Pioneering, Lifetime Achievement, Public Service, including law enforcement, firefighting, politics, government workers, and military; or a unique category that describes your nominee.
To qualify, the nominee should be a living woman who has significantly contributed to the Kingman area, has been a permanent resident for at least 10 years, has had a positive impact on the community, and not previously been a Women Making History awardee.
The deadline to submit nominations is 5 p.m. Jan. 20. The awards ceremony is scheduled for 2 p.m. March 5, a Sunday, in the Mohave Museum of History and Arts.
Every year, Women Making History continues to help young women in the Kingman community by awarding two scholarships to deserving individuals who are enrolled in Mohave Community College or the Northern Arizona University/MCC program.
These funds are raised by selling tickets for a drawing to win a handmade quilt. All proceeds go to the annual scholarships.
Tickets for the quilt drawing are $1 each or 6 for $5. They can be purchased at the Peterson-Burge Enterprises building or by contacting any Women Making History committee members.
For more information, dial 928-681-3344.