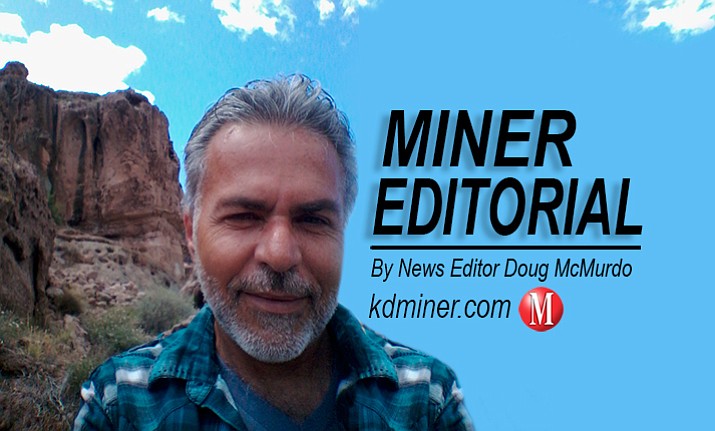 Originally Published: December 18, 2016 6 a.m.
The city of Kingman was kind enough to send the Daily Miner a Christmas card. So did Mohave County Supervisor Gary Watson.
While we are grateful for the kind gesture, it must be pointed out neither the city nor Watson were generous enough to put a $5 bill inside the card, like my grandmas used to do. A Starbucks gift card would have been nice. Or maybe tickets to a show in Laughlin.
Of course, had they put in a fin, a gift card or show tickets, we would have been duty-bound to report the payola – I mean gift – to our bosses, and then we would have to return it to sender.
A few weeks ago, a Las Vegas woman who called me with a problem several months earlier, sent me a $20 Walmart gift card. The reason for her kindness must be explained. Her mother, an elderly Kingman resident, had a problem with feral cats.
She wanted them gone, but she didn't want them killed to make that happen. I didn't do much except give her an ear. I made a few phone calls. I helped.
Kingman and Las Vegas veterinarians teamed up to trap the cats so they could spay and neuter them. The clowder of cats – that's what you call a group of cats; I know because I just looked it up – would live out their lives, but they would not reproduce.
And so, out of gratitude, she mailed me a gift card as a token of thanks.
I couldn't send it back because she left no return address on the envelope. So it went to a local charity.
And while I could put a gift card to good use, the real reward came when I replayed in my mind the steps I took to compel her to send it in the first place.
For very little effort, I made a difference for someone. This required no sweat. No money. No strain or pain. Just 30 minutes of my time.
Then I thought of a website online called Kingman Orchids and Onions. The tone can get uncivil at times – that's the nature of "social" media, it seems – but I love reading when people post orchids.
It means somebody made their day, whether it was a food server, a local business, a police officer or firefighter, or anyone else. The point is, somebody reached out to a stranger and committed a random act of kindness or was understanding to someone's plight. And that stranger was so impressed he or she was compelled to make a comment on a very popular local website.
If you just focus on the orchids and ignore the onions, Kingman looks like the most awesome city in the world.
With Christmas just a week away, take a moment to ask yourself: When was the last time I committed an act of kindness on behalf of a complete stranger?
Don't worry if you don't have an answer. Most of us forget the fact we're essentially good and decent people. We act spur of the moment and we forget just as quickly.
I don't know about you, but I've noticed a lot of tension in the city when I'm out shopping. It seems both customers and employees have had it up to here with the busy buying season. Haggard, hangdog faces, bent and slumped postures, bloodshot eyes so frazzled they look electrified – and that's just the bell ringers.
Call me a sentimental sap – your description would be accurate – but I think we all need to remember one of the reasons we celebrate Christmas in the first place. Let's spread joy and goodwill.
In today's absolutely divided and wacky America, let's take what's left of 2016 and go out of our way to be kind. Let's be kind to strangers in crowded places. Let's be kind to our children and our spouses or partners and to our parents.
Let's be kind to ourselves.
There's only 14 more days left. Let's make the most of it.
And maybe, just maybe, your grandmas will put $5 in your Christmas card.