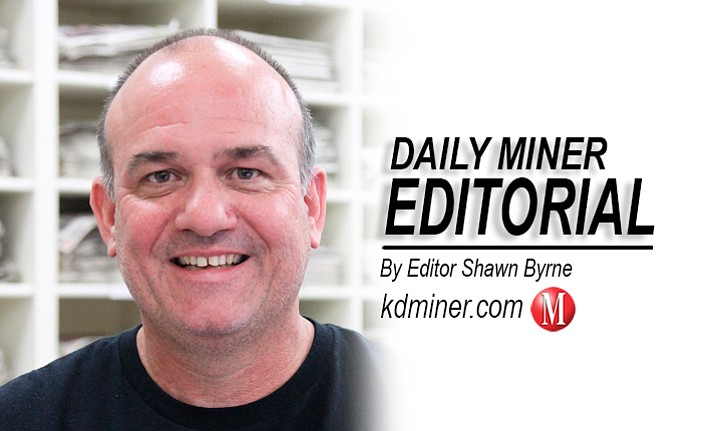 Originally Published: December 18, 2016 6 a.m.
"You're not in Kansas anymore, Dorothy."
That's one of my all-time favorite sayings. I've said it to so many people as they've moved up in their careers, whether in business or in sports.
I'm now saying it to myself.
I was promoted to editor last week from sports writer, and I'm living in a whole new world. It's fun and it's exciting. I've loved the first week and the thrills that came along with it. I've been given the keys to provide you with the best news, information and entertainment in Kingman, and I'm a safe driver.
There is an extraordinary amount of talent in the newsroom here at the Miner. The gifts possessed by the people here will continue to be opened and you'll be reaping the benefits of that. We work diligently to avoid mistakes, but they do sneak in at times. When they do, rest assured those are on me. If you're happy with something that the Miner has done, rest assured that is because of the wonderful people here.
I was a newspaper delivery boy for the Miner during the 1970s. I was enamored with my hometown paper back then, and I still am today. This is my town, and this is my paper, too. And it's your town and your paper. I look at both with reverence.
I dreamed long ago about returning to Kingman and working here at the Miner. I received a note recently from my friend, Paul, who lives in California. We spent a lot of time together in the late 1980s through the '90s, and he let me know that he remembered that I had told him of my dream regarding the Miner.
It was a dream of a little boy who fell in love with newspapers, especially the Daily Miner.
Now it's a grown man's dream. No, I'm not in Kansas, I'm in Kingman. And that makes me one of the luckiest people on the planet.
…
A hole was left with my moving onward to editor from sports writer. Sports fans have let me know the local reporting has slipped lately, and they're absolutely correct.
The Miner is proud to have J.T. Keith join the editorial department as the next Miner sports writer. J.T. comes from a sister paper, the Verde Independent, where he covered Camp Verde and Mingus high schools. In fact, J.T. had a football story published in the Miner this past season when Kingman Academy played at Camp Verde.
Earlier this week, a dear friend, who is a wise soul and a mentor to me, told me that it was my fault that the Miner was losing the best sports writer it ever had.
My friend never met Keith Schmidt, but I'm humbled by those words.
I believe J.T. has it in him to take over that title.
…
There is a lot of good in Kingman. True, Kingman is like most other small towns where specks can be found and criticized. For every negative that can be said about my favorite small town, I can come up with two positives.
I want to applaud Sara Peterson and all the wonderful people who are working with the Kingman Center of the Arts and fundraising to get the Beale Street Theater up and running.
I'm a live theater guy, and I am absolutely loving it that it has come to Kingman. My family and I saw both the "Nutcracker" and "Scrooge" put on recently by Beale Street Theater.
I'm so excited for this group and what they're offering us here in Kingman. When Beale Street Theater can finally open its doors on the corner of Third and Beale, downtown Kingman is going to pop with life even more than it is now.
It's an exciting time to call Kingman home.