Photo by JC Amberlyn.
Originally Published: December 18, 2016 6:01 a.m.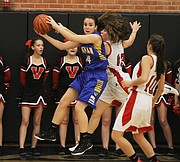 KINGMAN – The Lee Williams Lady Volunteers girls basketball team rushed out to a 17-7 first-quarter lead over the Kingman Bulldogs but had to hang on to get the win. Lady Volunteers' Sadie Snay played with four fouls in the fourth quarter while scoring 10 of her game high 21 points to lead the Lee Williams to a 56-43 win at home on Friday night.
"A lot of girls stepped up tonight," Vols coach Jerry Arave said. "We had balance scoring."
Madison Arave brought her A-game adding a double-double with 10 points and 10 assists, to go along with seven steals. Madi McGlathery and Kaylee Bond each scored eight points. Contributing was Cassidy Torrey with four points, Kristin Finch added three points and Sameri Satoafaiga had two points.
The Lady Bulldogs were led in scoring by Courtney Mossor with 11 points and Christina Thames had nine points. Kyla Silas and Cheri Roundy each chipped in with seven points.
Girls Soccer
The Kingman girls' soccer could not overcome a 2-0 halftime deficit to South Mountain, and lost 3-0. The Lady Bulldogs had a hard time finding the goal. They fall to 0-6-1 on the season and will be in action on Dec. 20 when they travel to Lee Williams for a 6 p.m. match.