Originally Published: December 18, 2016 6:04 a.m.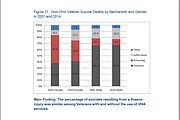 Wartime deployments can be brutal, but coming home can sometimes be more destructive than combat itself.

For more than a decade, suicide rates among veterans has surpassed that of non-veterans. Wars in Iraq and Afghanistan have given rise to a new generation of service members returning with PTSD, sexual assault trauma and mental and physical scars related to military – especially combat – service. Millions of these Americans join those of past wars who carry the same burden, and many of them have taken their own lives when they can no longer endure.
According to a recent study by the Arizona State University's Center for Violence Prevention and Community Safety, Mohave County ranks the third highest in Arizona in veteran suicide rates (the highest being La Paz County). The latest U.S Census population estimate of Mohave County is 204,737 (including 25,312 veterans). There were 121 veteran suicides per 100,000 people from Jan. 2015 to June 2016. Pinal County had the lowest suicide rate at 51 per 100,000.

Of the total Arizona veteran suicides, 78 percent were from gunshot wounds. Suffocation (including hanging) was second with drug and alcohol overdoses, incision (cutting and stabbing) and blunt force trailing.
Men commit suicide more often (nearly 81 per 100,000) than women (25 per 100,000). Veterans outnumber non-veteran suicide rates 80 to 29 percent.
It's no secret Mohave County has limited VA resources. There are Community Based Outpatient Clinics in Kingman and Lake Havasu City. The two closest VA hospitals, complete with mental health services, are the Prescott VA Medical Center and the North Las Vegas VA hospital.
Local sources have come forward to provide any information they can for veterans in hopes of putting the suicides to an end.
Jerry Ambrose Veterans Council
Pat Farrell of Jerry Ambrose Veterans Council said Mohave County's veteran population is about twice per capita as the rest of the country. The low cost of living and weather are two attractions that bring veterans, especially retired veterans, to the county.
"It's better for (their) overall health," he said.
Suicides caused by homelessness, easy access to guns and substance abuse are well known and documented.
"Those are the ones that are reported to the VA," said Farrell. He added that the grisly deaths – car accidents and suicide by cop – that don't make the official reports "is unacceptable."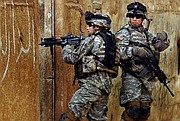 He's been working with county officials on a deal to acquire the abandoned Arnold Plaza downtown and hopes to set up services specifically for suicide prevention.
"That's one of the things we'll focus on when we get Arnold Plaza downtown," he said.
JAVC works with veterans throughout the county on other services and Farrell recommended the Vet Center in Golden Valley for counseling services.
"A lot of the vets aren't aware of the services to help," he said.

For more information on JAVC services, call Farrell at 928-377-2487.
Golden Valley and Kingman Services
The VA Vet Center in Golden Valley, (located at 4225 Hwy. 68, Suite G), provides counseling and wellness services to eligible veterans of all wars. PTSD, sexual trauma and bereavement counseling are the specialties, but marriage and family support, medical referrals and substance abuse assessments also are available. Many of those elements are directly related to suicide.
Counseling therapist Alexis Stewart gets about 150 patients a month. She said the rural environment and lack of resources is definitely a challenge. If a suicidal patient does come in, she has to screen them to see what services are needed.

"We're going to do an assessment to see if they have an active plan," she said.
A serious patient will either get sent to Kingman Regional Medical Center or the Mohave Mental Health Clinic. Non-emergency cases are referred to a counselor.
The Golden Valley Vet Center phone number is 928-565-7785.
Mental health services in Mohave County are stretched thin, including those at KRMC. Laurie Retzer with KRMC Emergency Department Social Services said all potential suicide cases "are treated with the utmost urgency."
Physicians will perform a mental status exam on the patient to determine the level of severity. Retzer will do a crisis assessment based on the patient's self-report and family history of drug or alcohol abuse and mental health issues. Patients will be vetted for seriousness of intent and influence of drugs or alcohol. She'll do her best to work with vets.
"Veterans never leave our ER without resources," Retzer said.
Prescott VA is the hub of help
The Prescott VA Medical Center is the biggest resource for veterans and their family members in Northern Arizona, but not always the most convenient. Spokeswoman Mary Dillinger and Suicide Prevention Coordinator Joey Carr provided critical information for rural residents.

They're aware the desolation of Mohave County and its limited resources. Carr said the majority of the vets needing help are those who aren't registered with the VA or are registered and aren't receiving general health services. Even vets who are registered have limited access to providers due to transportation conflicts, lack of phone and internet service or even that some have intentionally isolated themselves from society.
The Community Based Outpatient Clinics (CBOC) in Kingman and Lake Havasu City don't offer nearly as many on-site services as Prescott, but they can reference local residents to mental health professionals.
"We don't want them to think they don't matter," Dillinger said. "That's why we have the CBOC's."

In non-emergency situations, a veteran can contact a CBOC representative, who will then arrange for the vet to be contacted by mental health professionals within 24 hours.
Both Carr and Dillinger added that local non-VA social outlets like Veterans of Foreign Wars and American Legion chapters are other places where vets can identify and talk to their peers.
"I think it's critical we use all community resources," Dillinger said.

The National Suicide Prevention Lifeline (which serves the Veterans Crisis Hotline) at 1-800-273-8255 is the best immediate source for a veteran considering suicide. Vets and anyone concerned about them can call and will be guided to one of two lines – one specifically for veterans and the other for concerned parties. There are more than 500 responders (there were only 50 in 2007) who will guide the caller through the proper channels.
"That's a huge improvement for access," Carr said.
A non-emergency referral will be routed to Prescott for Northern Arizona residents. A counselor will respond within 24 hours. Law enforcement and medical services can be dispatched to a scene for an emergency call to the hotline.
Carr referenced a widely quoted statistic of 22 daily veteran suicides. She said it's more like 20, but it isn't the number that matters; getting vets the help they need is.
She said 14 of those 20 vets are not receiving services from the VA. Reasons include vets choosing private insurance, wanting nothing to do with the VA or aren't eligible for certain services.
Carr cited a 2016 study by the VA National Office of Suicide Prevention that was closely linked to the ASU study, but showed younger veterans have a higher suicide rate than older veterans and communication is key in getting the word out.
"I think it's critical for anyone out there to ask the younger vets to ask if they are enrolled in the VA," she said. "If you come to the VA for services, you're 66 percent less likely to commit suicide."
Even with access to mental health services, pride can be a huge hurdle for veterans.

"Many are ashamed, scared or think they can take care of the situation themselves," Carr said.
"Getting seen can make the difference," Dillinger added.

Until the VA and mental health situation in Mohave County improves, the local resources will do the best they can. In the meantime, should a potential suicide situation arise, help can be found by calling the Veterans Crisis Hotline at 1-800-273-8255 (for veterans, press 1), text to 838255, or visit online at http://www.prescott.va.gov/.
A link to the 2016 VA National Office of Suicide Prevention report can be found at http://www.mentalhealth.va.gov/docs/2016suicidedatareport.pdf.