Originally Published: December 18, 2016 6:02 a.m.
KINGMAN – Lee Williams was too much this and too much that on Friday as they invaded Kingman High School to turn a tight contest at halftime, 24-18, into a blowout. Lee Williams regrouped at the break and clamped down on the shorthanded Bulldogs, allowing them only 18 second-half points for their fourth straight, 70-36.
"The key for us winning tonight was the second half," Volunteer guard Parker Taylor said. "We came out with intensity in the second half."
Marco Antonio Narvarte led the Volunteers (4-1, 4A Conference) with 21 points and eight rebounds, proving to be too strong on the inside as he scored at will in the lane. He also had four blocked shots on the defensive end.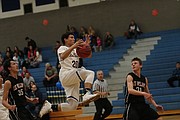 In the 46-18 second half, the Vols employed a mix of zone and press, which threw Kingman's offense out of sync and forced turnover after turnover.
"In the second half, I felt like our defensive pressure was a lot more intense," Volunteers coach Cain Atkinson said. "I felt like guys were flying a lot more, and we did a good job of creating turnovers."
Kael Juelfs and Esteban Luna each had 11 points and were forces inside for the Vols, and in what was truly a team effort, Larry Campbell chipped in with nine points, seven assists, and four steals. A.J. Herrera finished with eight points and grabbed 11 boards.
"I would say that the third quarter kind of got away from us," Kingman coach Nick Juby said. "At the half, I felt like we had to shorten the game down. But I felt good. We didn't play bad, but when you lose a quarter 28-12, it's tough to come back from."
In that quarter, the Vols came out on fire hitting three consecutive 3-pointers, and the Bulldogs could not recover from the 52-30 deficit. In the fourth quarter, Lee Williams outscored Kingman 18-6 to close out the game.
"I think we ran out of gas," coach Juby said. "When you lose your sixth and seventh man, it was kind of tough when they kept bringing in bodies."
Jon Hunt led the Bulldogs (1-5, 3A Conference) with 10 points, including three 3-pointers. Anthony Pinto chipped in with eight, and Jordan Dupee and Tobias Bagby each had five.

"I told the team to continue to believe and stay with me. We are going to be all right," Juby said. "After the break, they have the 10 most important games during the season coming up."
Kingman next hosts Parker at 7 p.m. Wednesday, and Lee Williams enters the holiday break and won't hit the court until the Vols are at Prescott Jan. 3.
More like this story