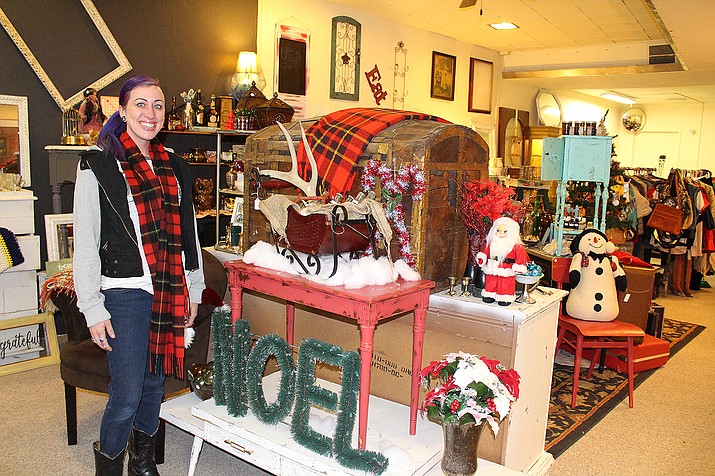 Photo by Hubble Ray Smith.
Originally Published: December 19, 2016 6:04 a.m.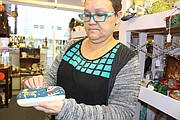 Everybody's on a Christmas shopping budget, and if you go to the right places, you can stretch that budget a little further.
Some people might be put off by the idea that you bought their gift at a thrift store. But others would love to receive the gift or they're not going to know the difference.
Let's face it, for a child, the shiny packaging is just an obstacle keeping them from playing with the toy inside.
Theresa Evans found a darling Japanese tea set, including a hand-painted tea pot and four small tea bowls, for $7.50 at Vagabonds Trinkets and Treasures, one of about a dozen thrift and vintage shops in downtown Kingman.
She came into the store looking for nesting dolls for her granddaughter, along with any antique toys she might come across.
"Buses and trucks … we collect them," said Evans, wearing a Christmas sweatshirt that reads "Love … the perfect gift." "I like ginger jars. Just little knick-knacks and toys for the grandkids."
For shoppers of vintage and antique items, every thrift store carries the lure of finding that once-in-a-lifetime treasure that's always out there, but seldom uncovered.
"You never know what you're going to find," Evans said. "A friend of mine found a ring with a real emerald for $20."
It's a lot different than doing your Christmas shopping at Walmart, said Leah Burkhart, who opened Gracie's Vintage and Thrift at 209 N. Fourth St. in November.
She sells a lot of rings and bracelets made of repurposed sterling flatware, and her store is filled with Christmas gift ideas like vintage mercury glass ornaments and soaps from Kingman-based Stuart Soap Co. Furniture from the 1950s and '60s is another big seller, she said.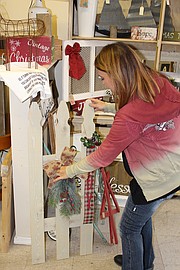 "A lot of people buy stuff from Walmart, but it's made out of pressed wood," Burkhart said. "It's not going to have that longevity. Pressed wood is the devil."
A block away at The Farmhouse, owner Barb Charon has set up the entire floor of her small shop with locally produced arts and crafts geared toward Christmas, including stockings, ornaments and tree skirts.
There's a set of Kerr jars for holding toothbrushes, cotton balls and Q-Tips, a perfect gift for anyone's bathroom.
"It's personable, it's unique, it's not common," Charon said. "If someone gets a gift from a big-box store, chances are 500 people have the same thing. For me, I'd prefer something different, something handmade."
Vintage Market 31 and Hattie Maxine's, two local artisans selling their wares at The Farmhouse, set up a display of plates molded with a snowman and Christmas ornament for $5 each, wrapped in a plaid garland ribbon.
Karen Jackson bought a 2-inch slice of tree trunk cut from northern California that she plans to use as a table centerpiece, perhaps placing holiday candles on it.
"I like the rustic look, the balance you can create with anything you want to display it with," said Jackson, who spends most of her shopping time and money at The Farmhouse and other downtown stores. "Nothing is junk anymore."
Vagabonds owner Eileen Ludington said her store has a little bit of everything and is constantly changing its inventory.
"We try to make it interesting for everyone who walks in," she said. "People come down for our honey. We have the lowest price in town for honey. It's good for you and it never goes bad."
Jewelry is always a popular gift item, along with vintage glassware, pottery, salt and pepper shakers and Route 66 souvenirs, she said. People also favor wooden Christmas signs made by a guy from Las Vegas.
"Some people just enjoy the hunt," said Mary Wise, co-owner of Time Was Antiques with her husband, Tom. "This is a store where the past is always in style. That's my trademark.
"I think the past is a link to what things used to be like and we need it to go forward. People just have a love of the past."