Originally Published: December 20, 2016 6 a.m.
I have been on a desert bighorn sheep hunt for the past two weeks in game management Unit 15D, which encompasses the area from Highway 68 to the north all the way to Interstate 40 on the south. The Colorado River is the western boundary
This hunt is in the rugged Black Mountains.
In the next few weeks I'm going to share the details of that once-in-a-lifetime hunt with you; and the hunts of other sheep hunters, but this week I wanted to share with you some places that I think you, the outdoor enthusiast, might not know about and might like to explore.
The first place I want to tell you about is called Alkali Springs.
This place will require a super tough truck or a UTV or ATV to reach. Take plenty of fuel, water and a cell phone. Take a camera, too, as you will see plenty of burros and maybe even a bighorn sheep if you are lucky.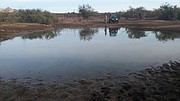 There is one area of rocks that even has petroglyphs on them.
It will take about an hour to reach once you leave the pavement on Oatman Road, but you will see some beautiful and rugged areas of the Black Mountains.
To get there, you take old Highway 66, which is commonly called the Oatman Road through Golden Valley west until you reach mile marker 34.7.
The turnoff is not well marked, and you'll only see a single green steel T-post marking it.
Turn left, or south, and you'll follow an old road around the base of the Black Mountains.
The rock formations that make up the eastern edge of the mountains are rugged, and yet beautiful. Remember, there is no off-road travel as this is in the Warm Springs Wilderness area.
Approximately 2 miles from Oatman Road you will come to what used to be an old corral complex. Many years ago, cattle used to water at this spot, but it is defunct now.
There is still a small dirt tank here that, depending on the rainfall in the area, may or may not contain water.
Currently, there is water in this dirt tank, but the only tracks we saw there were burros and a few lonesome coyotes.
It is a small desert oasis for those animals that live in this area.
After you leave this spot, you'll continue on south for a few miles and then the road turns into a major wash.
Right after you go into this wash and start driving west, look up in the wall of brown rocks on the north side of the wash and you'll see some petroglyphs; drawings and writings from people who lived in this area hundreds of years ago.
Do not touch or deface these ancient writings. Take pictures if you like, but leave them as you find them.
Follow the well-defined trail up the wash for another couple of miles. The road will end near an old, dry, dirt tank that was built years ago.
This, according to the Bureau of Land Management, is the boundary of the wilderness.
Many years ago when I first explored this area, the road continued up in the wash almost to Alkali Springs.
Now, boulders and Carsonite signs are in the wash, preventing anyone from driving near the springs.
It is at this point the desert explorer should put on a pack with water and then follow one of the well-defined burro trails northwest up the wash.
About a mile in on a hillside, you'll see a brown wet spot on the side of the hill.
There are two areas there where the water flows onto the surface, before going back underground.
There are signs of use primarily by the burgeoning population of burros that are in the area, plus I found a few cattle within a mile of the spring. In the time I was there, I glassed up two huge brown bulls, plus a smaller bull in this area.
I would have never believed that cattle could survive in this hostile desert environment if I hadn't seen them.
According to Jeff Pebworth from the Region 3 office of the Arizona Game & Fish Department in Kingman, Antelope Springs is located up over the ridge west from this location.
Birds and other wildlife depend on a permanent water source to survive, and these springs offer this life-giving fluid to them.
It is a nice easy hike up the wash, and if you take binoculars you might see some bighorn sheep that also inhabit this area.
To properly explore this part of Mohave County that very few people ever see, you should figure on at least a half day trip.
While I would never recommend that you do this trip in the summer, right now it is a great time to see some of the country that makes up part of our county.-