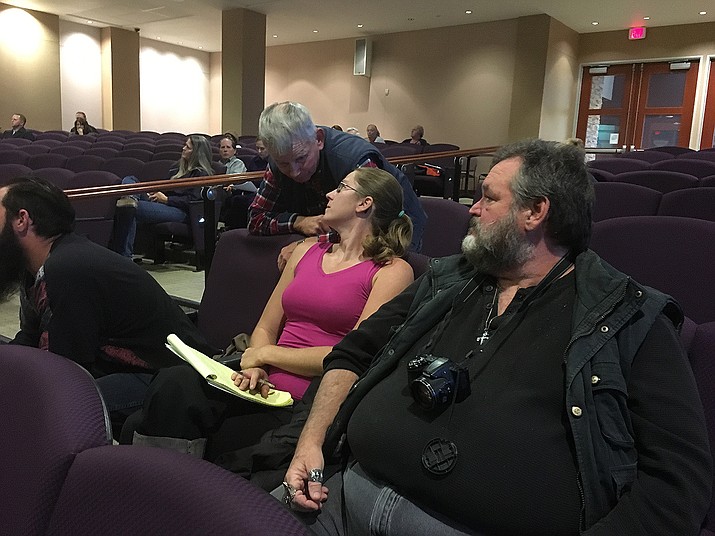 Photo by Hubble Ray Smith.
Originally Published: December 20, 2016 6:03 a.m.
KINGMAN – The lives of some 130 dogs and 70 cats remaining at the condemned animal rescue shelter in Golden Valley were spared for another couple of weeks by the Mohave County Board of Supervisors.
Supervisor Buster Johnson wanted to immediately revoke the kennel license of Rescued Unwanted Furry Friends Foundation, or RUFF, which has been the subject of formal complaints and violations almost since its inception in 2002, he said.
The board heard a report Monday from Public Health Director Patty Mead on horrible conditions at RUFF and listened to testimony from several citizens before voting 4-1 (Johnson opposed) to table the item until its Jan. 3 meeting.
RUFF was given until Dec. 30 to rectify health and building code violations at the 40-acre property on Laguna Road in Golden Valley.
Mead said public health officials visited the property on Dec. 8 and noted a number of violations, including no handwashing sink with hot water and soap, plumbing fixtures that were not properly connected, no bedding sand in the kennels, open bags of animal excrete and no record book on the animals.
Violations were not corrected upon a return visit the next day, so the home was "red-tagged" as unsafe for human habitation, and the animal rescue operation was shut down.
"We're allowing them time to improve sanitation," Mead said. "All we can do is enforce sanitation issues on the property."
Johnson said RUFF has been a "thorn in our side" since 2002, and the county has spent tens of thousands of dollars investigating the place. He blamed the courts for the letting the facility go because everyone loves animals, despite the list of violations.
Property owner and RUFF founder Hillary Allison was in the hospital when Mohave County Sheriff's Office Animal Control Officers condemned her home at the rescue sanctuary on Dec. 8.
Christine Anderson said she's taken over as president of RUFF as health problems have prevented Allison from caring for the animals.
"The animals are being taken care of and we're no longer taking in any more animals," Anderson told the board.
About 40 dogs have been adopted and 10 more are awaiting adoption by people from out of the area, she said. Livestock such as pigs and goats have been removed from the property and will not be returning until it's brought up to code, she assured.
Johnson asked about the nonprofit status of RUFF, and Anderson answered that the organization is no longer a 501(c)3 nonprofit.
Anderson said the trash bill has been paid and the bags of animal waste have since been removed from the property. She asked for an extension on the Dec. 30 deadline in order to raise funds needed for work to bring the home into code compliance, but was denied.
Anderson had difficulty answering supervisors' questions about RUFF's budget and revenues. She said monthly bills vary from $5,000 to $8,000, including $500 for water and $2,000 to $3,000 for food, plus maintenance and vet bills. Revenue is around $800 a month, she added.
"So you're taking care of 200 animals on $800 a month?" Supervisor Gary Watson asked.
Supervisor Jean Bishop said she received numerous emails and phone calls from people who want to see RUFF's license revoked. However, she went out to the property last week and saw no "atrocities." Animals had food and water, though they needed grooming.
In her three minutes of public comment, Dawn Sloat of Golden Valley said the first rule of running a rescue is knowing your limit.
"That concept has been forgotten here," she said. "This has gone on for years. The can is always kicked down the road. If more chances are given, we're going to be addressing this again. I would ask that you revoke the license so this doesn't continue."
County attorney Bill Ekstrom said the health department has given RUFF until Dec. 30, and noted that Allison has hired an attorney, so it would be better to wait before taking action.