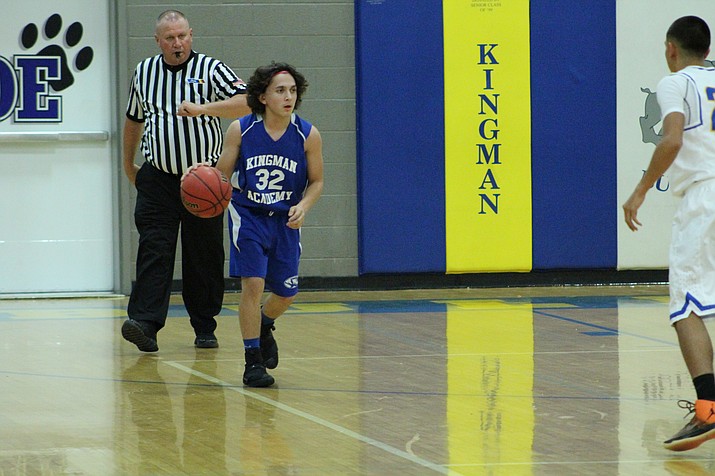 Photo by Shawn Byrne.
Originally Published: December 21, 2016 6:03 a.m.
KINGMAN – The holiday break could not be coming at a more opportune time for the Kingman Academy Tigers basketball team. In a game that seemed to match their first half of the season performance, nothing went right for the Tigers.
Kingman Academy (3-6) didn't play particularly well falling to Northland Prep Academy Monday night in Flagstaff, 49-37.
"Last night was a disappointment," said KAHS boys basketball coach Brian Devincenzi. "We dropped our first game against a 2A team."
Playing shorthanded might have affected the Tiger. They played without two of their starters and a key reserve. Devincenzi will get two of his starters back and a key ball handler in David Larrabee, a transfer from River Valley, once break is over.
"I don't like to make excuses, so suffice it to say we underperformed," Devincenzi said.
The break comes at a good time for the Tigers and they can go back to the drawing board and hit reset. With a roster full of hungry players anxious to see action and help get the Tigers back into the playoff hunt, the second half could be interesting.
"We will continue to train hard over the break," Devincenzi said, "and see if we can iron out some of our issues."
"I think we have been very unsuccessful in the first half of the season, but we have also learned a lot, and besides, we have not played a regional game yet. I am always an optimist, so I expect we will surprise a lot of teams and make an exciting run."
Kingman Academy returns to the court on Jan. 3, when they travel to Antelope for a 7 p.m. tip.