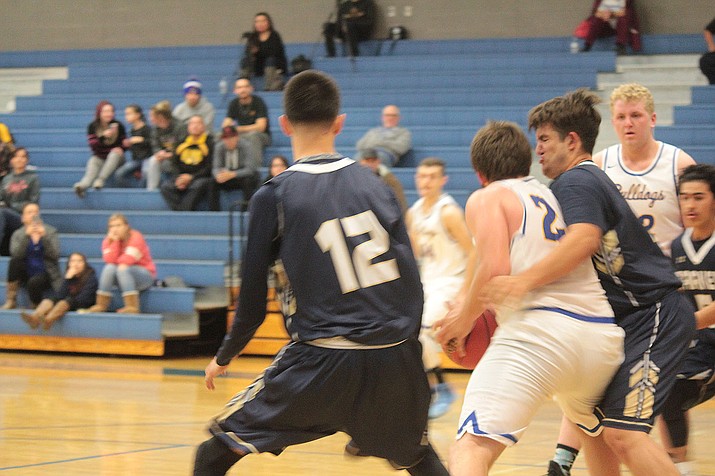 Photo by JT Keith.
Originally Published: December 23, 2016 6:01 a.m.
KINGMAN – There are only two days left until Christmas, and all Kingman boys basketball coach Nick Juby is going to ask St. Nick for is made free-throws. It seems like a small wish, but if the Bulldogs would have made say half of their free-throws, there is a good chance they would have won Wednesday's game against Parker.
Instead, Kingman lost to the visiting Broncs, 66-53.
"I'm going to change my Christmas wish list for my team," Juby said. "I'm going to be like Santa; I need some free-throw shooting for my team. I don't need anything else. Please, I don't want nothing else. I just need my guys to hit 60 percent of their free throws."
With the referees calling any and every foul, the Bulldogs made it to the free-throw line 30 times where they promptly made four, shooting 13 percent from the line. In the first-half, Kingman shot 3-of-18 from the line, and in the second half, they went 1-for-12.
"We were attacking and continued to attack," Juby said. "We were in the bonus midway through the first quarter. It's tough when you shoot 13 percent from the free-throw line."
The Bulldogs fell behind 5-0 in the opening minutes of the game. They could not maintain any consistency offensively until the final minute of the game.
Besides the free-throw debacle, they missed open 3s and some shots around the rim.
Both teams ran up and down the court and challenged each others big men inside the paint.
The momentum swung in the second quarter with 2:32 left when the Bulldogs' big man Anthony Pinto looked like he was going to score an easy layup on a fast break, but was blocked by a streaking Broncs forward Josh Golding. Golding came from behind and swatted Pinto's shot into the stands eliciting a reaction from the crowd, as the Broncs went on a 10-0 run to close out the first half, 34-25.
"We couldn't hit free throws," center Anthony Pinto said. "It happens (being blocked by Golden), everyone gets blocked occasionally. It's no big deal. He (Golden) motivated me to do better after I got blocked, and everyone was going crazy."
With 1:50 left in the game, the Bulldogs switched to a press and forced several turnovers that allowed them to score easy baskets and close the gap to 57-51. The Bulldogs had their chances but missed both free throws and open jumpers.
Also helping to keep the Bulldogs in the game was the long-range bombing of Jordan Dupee. He came up big hitting three bombs from behind the arc when the Broncs defense sagged to clog the middle on Pinto. Dupee finished with 12 points.
"I think we played a little protective in the fourth quarter," Broncs coach Rolland Hansen. "We tried to protect the lead instead of being aggressive; they took advantage of it and came back in the final minute to make a game of it. We were able to recover. If they could have hit their free-throws it could have been a one-point game."
Juby will give his team the rest of the week off. The team will practice Monday to shoot 100 free-throws before heading to Las Vegas for a tournament on Dec. 27-28 at Desert Oasis High School.