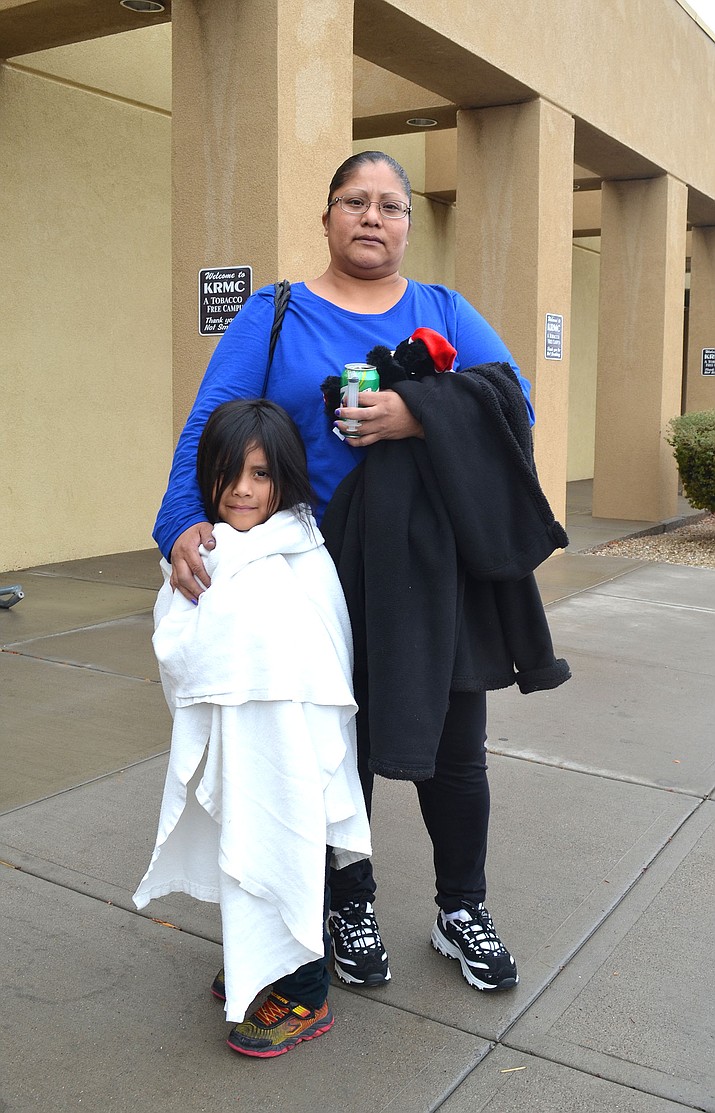 Photo by Aaron Ricca.

Originally Published: December 23, 2016 6:03 a.m.
KINGMAN – Efforts to help the family displaced by a fire Wednesday morning are coming together, but more are still needed two days before Christmas.

"Where are we going to be now?" asked April Watahomigie, a 41-year-old single mother of four boys and a girl ages 4 to 22. The family is staying at the Best Western Kings Inn – until Monday. Efforts between the American Red Cross and Kingman Middle School will help with their stay. After that, there's no telling where they'll be.
Watahomigie was shaken and emotional when describing the shock of losing everything in "our first home we could ever call our own." Everything from clothes to Christmas presents were ruined by smoke and water damage. The family had been living at their Stockton Hill Road house since 2012, when they moved to Kingman after years of house-hopping on the Havasupai Indian Reservation.
KRMC Emergency Department Social Worker Laurie Retzer put the distraught mother in touch with the Miner barely 24 hours after the fire. Watahomigie was thankful of the support she's already received. She's already been contacted by numerous businesses, including NUCOR Steel, who contacted her Thursday morning, and she's amazed at the response.
"I'm overwhelmed with what's going on," she said. "I'm just trying to be strong for my kids."
Watahomigie has immediate family in town who've been helping out with transportation and food, but are full up as far as living space goes. She has a sister in Tucson ready to welcome them for the holiday, but the family has no way to get there.
The Kingman family has already been surrounded by hardship, including years of physical, emotional and substance abuse. The children's fathers are out of the picture. Last year, her 22-year-old son Aaron was severely beaten by a group of men, leading to injuries so bad he had to be airlifted to Flagstaff for treatment. He has since gone to work for Grand Canyon West.
She's been raising the kids on her own for the last few years, including 4-year-old Judas Jack, her niece's son whom she took in three days after he was born. The boy aspires to be an athlete.

"His biggest dream is to be with the Arizona Cardinals," she said. "He loves football."
She's currently unemployed but has been looking for work now that Judas is getting old enough to start school (he'll turn five in January). A family friend has been helping with rent and bills over the years along with the government assistance she receives. She said she used to work as a secretary for the Havasupai Tribe and a social worker with the Bureau of Indian Affairs and is currently seeking work in the administrative field. She has applied for work, but has heard nothing back.
Each of the children went to their respective schools to see friends Thursday before Christmas break. Watahomigie is glad "to be with my kids and to move forward." Until the tides turn, she's trying her best to come to grips with her situation while grateful for all the help she's received in the few days before Christmas.
"I'm keeping my faith and keeping my strength and giving it all to God to see us through this," she said. "I'm really thankful. I give my heart to the city of Kingman."
---
Anyone wishing to help can contact Kingman Fire Prevention Specialist Oscar Lopez at 928-753-8039. The KFD administrative office will be closed Sat. – Mon., but Lopez will check voicemail and pass on information to Watahomigie.

KRMC spokeswoman Teri Williams said the hospital has started an account with the KRMC Foundation. You can go online to www.azkrmc.com/foundation-giving-opportunities/ and click on 'Designated Program Giving,' select 'General Fund'. Type 'Christmas Family' in the comment section after making the payment. If you don't want to go online, you can take a donation to the KRMC Gift Shop and write 'Christmas Family' on the envelope. Makes checks payable to the KRMC Foundation.
The American Red Cross works with other local charities. Financial donations can be made at www.redcross.org.