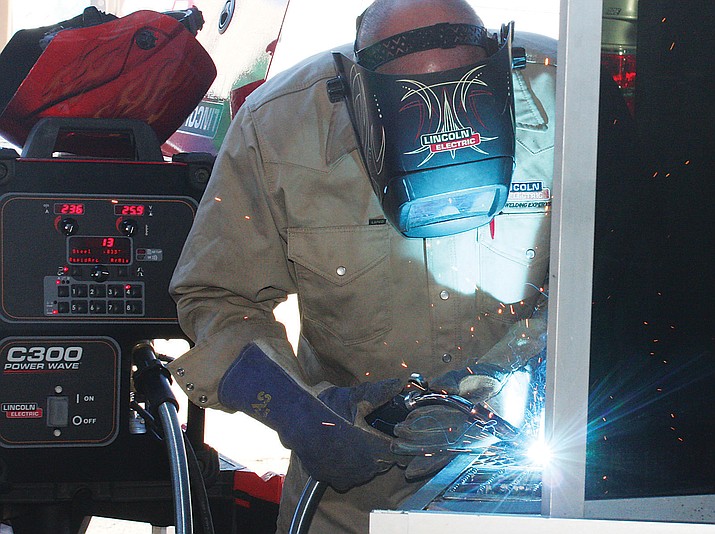 Photo by JC Amberlyn.
Originally Published: December 25, 2016 6:03 a.m.
KINGMAN – It pays to earn an associate's degree or vocational certificate from Mohave Community College, sometimes even more than a bachelor's degree, according to two national studies.
Many community college degree and post-secondary certificate holders are earning as much as graduates from universities, the studies showed.
Five years after earning an associate of applied science degree, graduates were earning $49,700 a year compared to those with bachelor's degrees who earned $46,900, according to researcher Mark Schneider, a former commissioner of the National Center for Education Statistics.
"While our society has emphasized the bachelor's degree as the surest path to the good job and high wages that students want in return for their investment in higher education, the associate's degree and certificate programs offered by community colleges can produce the same wages as bachelor's degrees," Schneider said.
Schneider studied data on college degrees, post-secondary certificates and salary information from several states and published the results in College Matters, which is owned by the non-profit American Institutes for Research.
He found people with certain community college degrees and post-secondary certificates are earning salaries comparable to those with bachelor's degrees, even up to 10 years after graduating.
"This is particularly true for students completing career and technically oriented programs," Schneider said. "So, students who don't have the time, inclination or money to pursue a four-year degree should look for programs in their local community college that will lead to good jobs."
A study conducted by Georgetown University's Center on Education and the Workforce showed similar results.
More than 80 percent of associate's degree and post-secondary certificate holders in fields of healthcare, science, technology, engineering and mathematics are earning middle-class wages and salaries, according to the Georgetown study.
Mohave Community College offers more than 40 of these career and technical degrees and certificates that could help families boost their earnings.
"We're such a good value, the return on investment for the majority of Mohave Community College's CTE programs is very good," said Jason Gee, MCC associate dean of instruction.
Mohave Community College's full-time students pay $2,640 in tuition and fees each year for a two year degree. That is one-fifth the amount students pay each year at Arizona's universities.
According to the Arizona Board of Regents, annual tuition and fees at the University of Arizona is $11,403, ASU students pay $10,478 each year, NAU students pay $10,358 annually.
According to the U.S. Census Bureau, the average family income in Mohave County is $36,311.
Average annual wage associated with many degrees offered at MCC far exceeds that.
Dental hygienists in Mohave County earn an average of $76,560, according to the U.S. Bureau of Labor Statistics.
Automotive collision repair technicians earn $61,920, registered nurses $61,910, radiologic technologists $60,540 and surgical technologists $50,020.
Top welders average $60,000 a year. Computer information systems students with a degree in web development, which is offered at MCC, earn an average of $64,970.
"For people looking at a great career investment, don't rule out the Career and Technical Education trades," said Gee, who points out that with overtime, graduates of MCC's HVAC program can earn $80,000 a year in Mohave County.
"Even if you don't start out making the average income in your field, MCC degree and certificate holders are in position to rapidly move into management positions in their respective industries," Gee said. "We have culinary graduates who quickly moved up the chain and are now sous-chefs helping run kitchens in casinos in Laughlin."