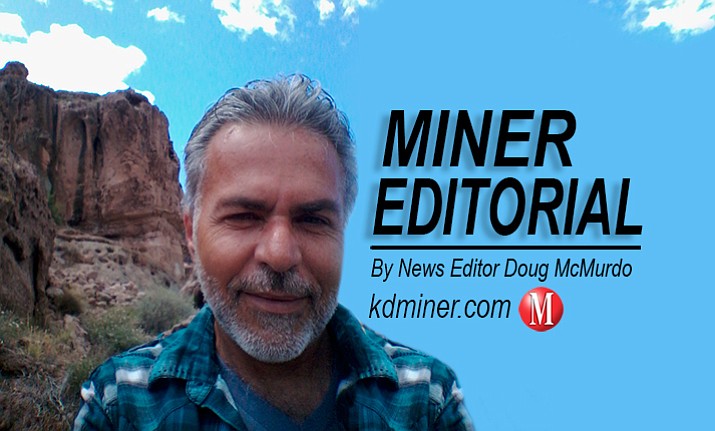 Originally Published: December 25, 2016 6 a.m.
The bad news is, my daughter had to have surgery four days before Christmas. The good news is, my grandchildren, ages 7, 6 and 18 months, have been staying with their Gram and me and it has been a blast.
Popcorn and Jim Carey as the Grinch. Polar Express. A Charlie Brown Christmas. Hot cocoa. Well, warm cocoa. Gingerbread men and sugar cookies with milk.
They miss their momma, and their daddy who is tending to their momma, but we've done a pretty good job of keeping them occupied.
And by we, I mean Sheila, who spends all day with them while I work.
But not today. Today I will spend Christmas with my family. We'll put Elvis in the CD player and watch Sophia, the baby, get her blues on. She can really dance for a kid that learned to walk just a few shorts months ago.
We'll listen to Joaquin tell poop jokes, which, apparently, are incredibly hilarious to 6-year-old boys (and proudly immature 56-year-old papas).
We'll watch Scarlett, the oldest, color amazing pictures and hear her sing in her young girl's falsetto.
There will be spills and trips and Sophia will cry on occasion and I'll have to tell Joaquin not to jump on the furniture … over and over again.
The odds are great I'll step on at least one Lego. The odds are even better Sophia will offer me a half-chewed cookie and I'll have to pretend to put it in my mouth.
Sheila will stay in the kitchen and work herself to the point of exhaustion and she'll do so with a smile on her face. And the delicious smells her cooking produces will put a smile on mine.
The only stress I see coming is in the bathroom. We only have one and things could get sketchy.
And, of course, I will think back on Christmases past and all the loved ones I spent them with who are no longer here. I will laugh how Dad was always on his best behavior on Christmas Eve and Christmas Day, which was a Christmas miracle because the man could strike terror into the heart of a lion.
I will think of Mom's awesome smile and loving hugs and, oh, how she would sacrifice for her six kids. I didn't know it at the time, but both of them were grooming me for fatherhood.
I will think of my siblings and how we always managed to be kind to one another on this day, and I'll laugh when I remember things went back to normal the next day when we resumed our eternal grudge match.
Like my father, I will be on my best behavior today. I will have the patience of a saint. I will laugh at poop jokes I've heard a thousand times already. I will help Sheila with the cooking and Scarlett with her drawing and Sophia and I will cut the rug to "Santa Claus is Back in Town."
Tonight, when the kids lay down to sleep, Sheila and I will look at each other and smile, knowing we did our best to make Christmas memorable for three children who miss their mom and dad.
Merry Christmas, Kingman.