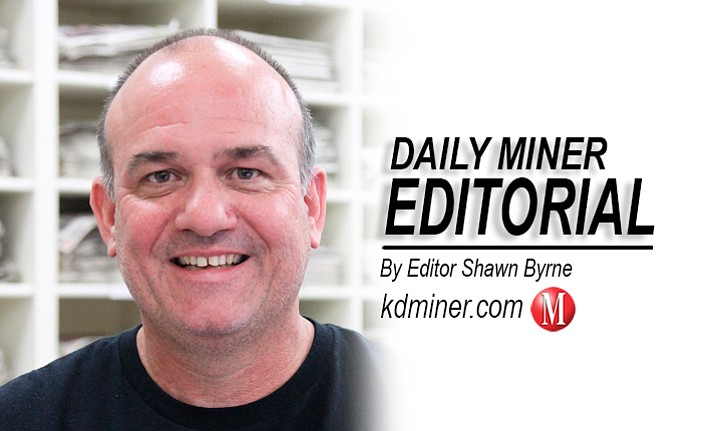 Originally Published: December 25, 2016 6 a.m.
Merry Christmas, everybody. I hope today is turning out to be the loveliest of days for you and your families.
I hope your heart is swelling with love. Mine feels like it's coming out of my chest.
I'm not letting out any secrets as I say this is the wonderful season of giving. And once again, the fine folks of Kingman have come through with their spirit of sharing.
Aaron Ricca reported this week about April Watahomigie and her five children being displaced as an early morning chimney fire made their home uninhabitable.
The American Red Cross and Kingman Middle School put Ms. Watahomigie up for a few days at the Best Western Kings Inn. Many businesses like Nucor Steel have made contact with her and are trying to help the family get through these difficult times.
Plenty of other people have contacted us here at the Miner to offer their support from wanting to pay for her family's Christmas dinner to a man who wants to give the family four tickets to an upcoming San Diego Chargers game – if they can get there.
When Kingman found out about this family's catastrophe, Kingman rose up. Just like she always does.
If you would like to help the family, contact Kingman Fire Prevention Specialist Oscar Lopez at 928-753-8039.
…
I imagine the sports writer inside me will never quiet down. One of the best pieces of advice I've ever gleaned on to came from the iconic Red Smith. I read where he said something along the lines that he didn't write about sports, he wrote about people.
That sentiment came to life for us this week when Hubble Ray Smith wrote about the Dick Grounds Field sign that has reappeared over the baseball field at Lee Williams High School. When I grew up here those many moons ago, it was always Dick Grounds Field. I'm thrilled the young people and newcomers can hear and see his name and wonder about him. He was a truly amazing athlete by all the accounts I've read and heard about him. What I witnessed this week showed me he was a truly amazing brother.
Dick Grounds died of leukemia in 1962 shortly after graduating from high school.
I got to touch the life of Dick Grounds when his sister, Tommie Upton, stopped by the Miner with a photograph that we used in Wednesday's paper. In our too short, too brief of a conversation, I felt the love Tommie still has for her brother.
She came to our offices clutching the scrapbook of her brother's exploits. She spoke in a tone of love and care for Dick, and tears welled up in her eyes as she remembered him. I was honored to have those few moments in the world where Dick Grounds still exists.
Tommie Upton gave me a wonderful Christmas present this week. I'll treasure it because it not only showed me the power of love, but it proves Red Smith correct. We don't write about sports, we write about people.
Merry Christmas, everyone!