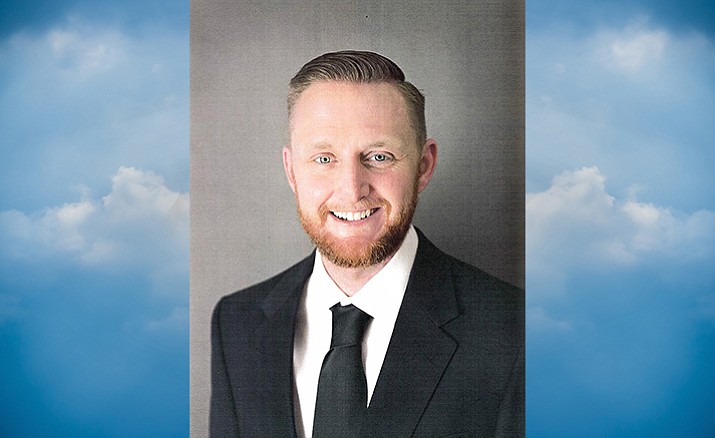 Originally Published: December 25, 2016 6 a.m.
Lucas Alan Nielsen was born Sept. 18, 1983, in Spencer, Iowa, to Chris and Judy (Schoening) Nielsen. He passed away Dec. 14, 2016 in Kingman, Arizona.
A 2002 graduate of Kingman High School, Luke worked as a clinical specialist for Medtronic Inc., a global health-care solutions company. Prior, he had worked as a technician in the cath lab at Kingman Regional Medical Center. He studied at Chadron State College and the Radiologic Technology Program at Pima Medical Institute.
Luke married Nikki Vitale on May 18, 2012, in Coronado, California. They had two beautiful children, daughter Addison Ann, 2; and son Trevor Alan, 6 months.
In addition to his parents, wife and two children, Luke is survived by his sister, Annie (Nielsen) Goodey; brother-in-law, Clint Goodey; father-in-law, Robert Vitale; and his wife Barb; mother-in-law, Becky Vitale; sister-in-law, Heather Vitale; nephews, Kayson and Dawson Goodey; grandmothers Marcella Harvieux and Rita Selk; aunts Suzanne Lichner, Donna DuMoncieux, Sherry Cooper and husband Terry, Sandy Pritts and husband Randy, Jan (Schoening) Barrios, Connie Goeken and husband John, Clarice Dexheimer and Christine Selk; uncles Deryl Nielsen and wife Gail, Dan Nielsen and Martin Schoening and his wife Elaine; and numerous cousins who adored him.
Preceding him in death were his grandfathers, Dutch Nielsen, Kenny Schoening and Otto Selk, Jr.; uncle Dale Nielsen, uncle Bill Williams, Gram Jennette Minish and beloved cousin Vance Johnson.
A memorial took place Dec. 17, 2016 at Kingman High School. A fund has been established for Luke's wife and children at www.gofundme.com; please search for "Nikki Nielsen and Kids Support Fund."
Arrangements were placed under the care of Lietz-Fraze Funeral Home and Crematory.
Thoughts and condolences may be submitted to the family at www.lietz-frazefuneralhome.com.
More like this story