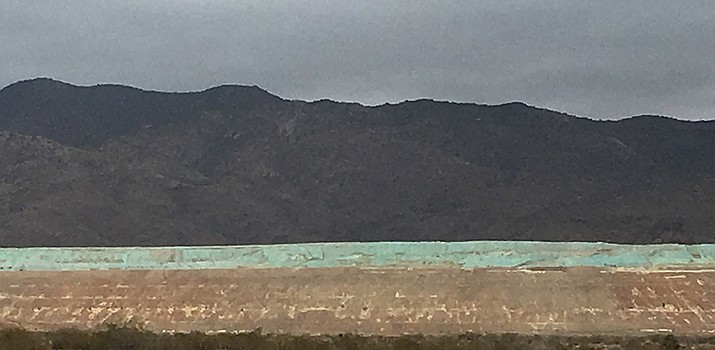 Photo by Hubble Ray Smith.
Originally Published: December 26, 2016 6:01 a.m.
KINGMAN – The bluish-green streak of discoloration that can be seen in the rocky hills south of Chloride is caused by a dust suppressant that was applied a few weeks ago at Mineral Park Mine, a mining executive said Thursday.
Jack McMahon, president of Origin Mining Co., said the dust suppressant is environmentally friendly and biodegradable. It's used throughout the mining industry and is required by the Arizona Department of Environmental Quality.
"We even further enhanced the value so we could tell if any other areas are not protected by looking at the color, rather than using the usual suppressant, which is transparent," McMahon said. "If the color goes away, we can reapply it. It's a good indicator of how the suppressant is performing."
Mining dust can cause serious health issues. In order to keep track of it, dust control systems are put in place to protect not only the workers, but also residents in the surrounding area, McMahon said.
There are several ways to control dust from mines, including use of water and chemicals to control dust coming from roads, tailing piles, waste rock and other exposed surfaces.
High-pressure spray systems create a mist to suppress dust and are the most common method for material handling and processing operations.
They may also use chemical additives to enhance performance.
Mineral Park has been shut down since late December 2014 following a bankruptcy filing by its previous owner, Vancouver, B.C.-based Mercator Minerals.
U.S. Congressman Paul Gosar, R-Ariz., is trying to help Origin get the mine up and running again. He introduced legislation in November that would allow the company to buy 4,276 acres of mining claims at fair market value. The mining claims are in the jurisdiction of the U.S. Bureau of Land Management.
An estimated 400 jobs would be created with the opening of Mineral Park Mine.
Ruben Sanchez, Kingman's field office manager for the BLM, said the agency in the process of conducting several mining environmental impact studies, or EIS.
Two copper mines are doing an expansion of operations, including Mineral Park Mine, which was purchased from bankruptcy court by Origin for $10 million in January 2015. The other is the Bagdad Mine in Yavapai County owned by Freeport McMoRan.
The BLM is reviewing the mining plans from both companies to see that they are thorough, Sanchez said. Some controversy is expected with the issue of increased water usage.