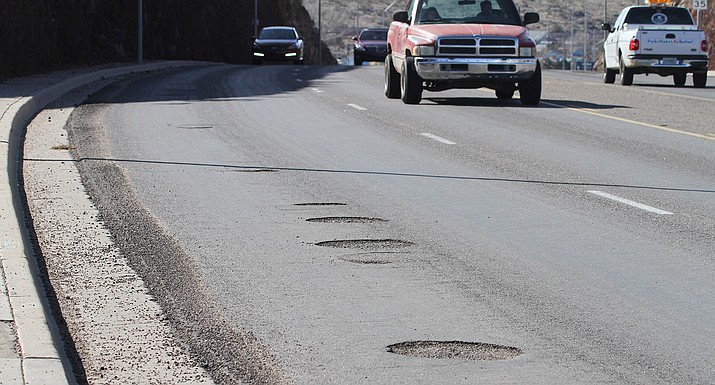 Photo by JC Amberlyn.

Originally Published: December 28, 2016 6:04 a.m.
The weekend storms did a number on city and county roads, and crews are still patching holes.
Snow pounded the Hualapai Mountains Saturday, forcing the closure of Hualapai Mountain Road past milepost 6. Only vehicles with four-wheel drive and snow chains were allowed to pass. Other roads closed to flooding and washouts have since been reopened, including Hackberry Road near Highway 93 and Interstate 40 and portions of Shinarump Drive in Golden Valley.
Rain caused a rockslide on Route 66 near the Mohave County jail, and roads in low-lying and hilly areas were submerged in water, leaving behind unpassable piles of dirt, rocks and other debris for crews to clean up. Both city and county road crews have their work cut out for them.
"There's a lot of road repairs that need to be done," said Mohave County Public Works representative Karen Thomas. "We can just take requests for repairs. We can't be everywhere at once."
City streets superintendent Jack Plaunty said his ten-person crew have roughly 250 miles of paved and dirt roads to repair.
"Right now we have everyone out doing cleanup," he said. "Once we get all that, we'll take care of all the potholes."
Andy Devine Avenue got its fair share of storm damage. The downhill water runoff on El Trovatore Hill left some particularly large potholes. Arizona Department of Transportation used to be responsible for maintenance on Route 66, but those duties have since been shifted to the city.
Plaunty said a difference in between former ADOT and present city maintenance protocols along with the lack of proper funding for long-term repairs are the two biggest factors contributing to reoccurring potholes. The overwhelming downpour of rain attacks the roads from atop and below weakening the asphalt, especially on streets without curbs or storm drains that divert water. Freezing temperatures can also warp the asphalt.
Neither county nor city officials had figures on road repair costs. Crews are spread thin while they're dealing with the mess the best they can from a storm no one expected to drop so much rain.
"The work is spread out," Plaunty said. "With ten guys it takes a long time."
Plaunty's crew is currently cleaning up the larger obstructions. After clearing the dirt and rocks, they'll shift to pothole damage. It could be about a month before everything is smoothed over. The crew worked to 9:30 p.m. on Christmas Eve.
"We started Saturday morning," he said. "There's not a lot we can do when the water is flowing."
He said finding a solid solution to the potholes is a long-term issue. He'll try to work with city council on pavement preservation funding. Until then, he urges drivers to slow down and be cautious of the craters.
"We'll get to them as soon as we can," he said.

Both the county and city are ready and willing to work with the public on repairs. The City of Kingman Street Department phone number is 928-692-3135. Mohave County Road Division can be reached at 928-757-0905
"Don't hesitate to call us if there's something we haven't got to yet," Thomas said.
Related Stories
More like this story