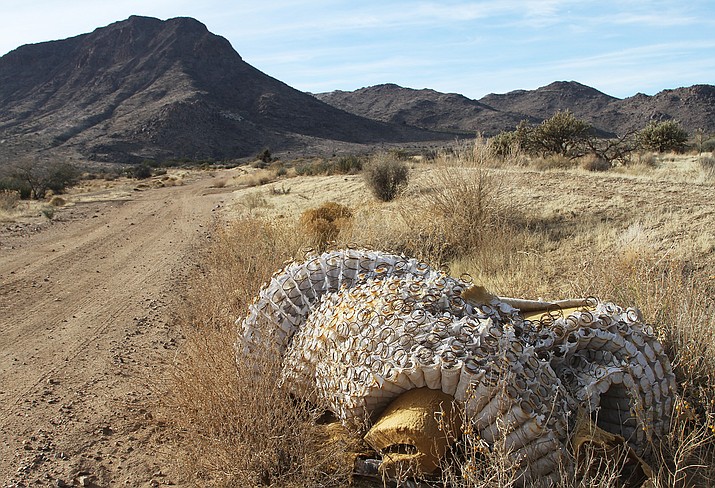 Photo by JC Amberlyn.
Originally Published: December 29, 2016 6:04 a.m.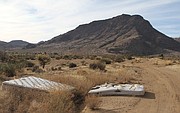 KINGMAN – Wayne Hollins is getting tired of cleaning up all the trash that's been illegally dumped in the desert around his home in Golden Valley, and he doesn't see Mohave County doing much to stop or even slow the criminal activity.
Hollins and a group of volunteers removed 99,000 pounds of trash and 33 tires and barely made a dent in the clutter that ruins the area's natural beauty and looks as if people have no pride in their community.
"We're not keeping up," Hollins told county supervisors at their Dec. 19 regular meeting. "They're dumping faster than we're picking it up."
The Board of Supervisors adopted an ordinance in 2015 to crack down on "wildcat" dumpers, as they're called, with a fine and jail time if they're caught and don't clean up their trash within five days.
They attached a $500 fine to a state law for prosecuting illegal dumping, offering the money as a reward for anyone with information leading to the arrest and conviction of wildcat dumpers.
It's been a problem for years not just in Mohave County, but throughout the state, said Todd Davison, program coordinator for ERACE, or Environmental Rural Area Cleanup Enforcement.
Mohave County created ERACE in 2003 to address illegal dumping, taking a percentage of landfill fees to pay for three investigators who would work to educate the public and enforce the law.
"We have ERACE, but it's not very effective," Hollins said. "Dumpers have a better chance of winning the lottery than they have of getting caught. It's not working and it's every one of your fault. They're not worried about getting caught. What? You get five days to clean it up."
Davison said ERACE removed 322 tons of litter from public property in 2015-2016, including more than 2,900 discarded tires. The agency has 350 open investigations and 358 closed cases.
"It would take 81 full-size garbage trucks to remove that amount of trash," Davison said. "It's quite a bit."
In the month of November, ERACE assisted in the removal of 47,000 pounds of trash during cleanup projects in Meadview; 8,200 pounds in Dolan Springs; 1,140 pounds in Golden Valley; and 1,595 pounds in Kingman.
Difficult prosecution
If an illegal dumper is positively identified, an arrest could be made, Davison said. However, only one reward was paid through Mohave County Sheriff's Office for a successful prosecution, he noted.
Public Works receives help from the Sheriff's Office, Environmental Health, Development Services and probation department for providing labor for clean-up.
Doug, who did not want to give his last name, complained to the Daily Miner about 6-foot wooden spools that were dumped off of Stockton Hill near Cactus Wren. They've been there for a couple of months.
"I go cruising out there and don't much like it," he said "I'm going to get rid of them myself. I just want to know, who's the dog?"
He suggests putting trail cameras in areas that are common dumping grounds to identify perpetrators.
"If we don't have evidence … some people may dump and not leave the same evidence," Davison said. "If we had more witnesses, we could have more prosecutions. Sometimes we know who left it, but not who generated it."
It's a huge job – almost impossible – for three people to cover the entire area of Mohave County, Supervisor Gary Watson said. He asked about reducing the grace period from five days to three or even two.
"Usually people will clean it up before five days," Davison said. "I don't know that changing the time frame will pick up more trash."
"How about 24 hours to clean it up or you go to jail?" Watson responded.
Davison said a fine in addition to the five-day notice might be more of a motivator. A lot of people hire contractors to haul away their trash, and those are the cases lacking sufficient evidence for prosecution.
"We have to treat it like prostitution," Supervisor Steve Moss said. "I'd like to put the fine on the homeowner who knows the person they hired isn't licensed. That person knows what they're doing. They're part of the problem."
Mandated service
Perhaps mandating trash pickup in higher density areas would help solve the problem, Supervisor Jean Bishop suggested. With its low tax structure and cost of living, Mohave County attracts people from lower-income brackets who want to live cheaply, and many of them get by without paying for trash pickup, she said.
"I know it's not the popular thing to do, but maybe it's time to require mandatory trash pickup," Bishop said.
Davison said he could see that in some areas of Butler, Birdland and Golden Valley. ERACE does schedule a community cleanup day, which is basically a free dump day, he said.
"Maybe mandatory trash pickup can be set up in some way. One person with a trailer. It doesn't have to be a trash company," Davison said. "We have areas where there is no trash service required and trash piles up on the property. It would certainly cut down the problem in areas of Golden Valley."
Some folks are elderly and don't have a trailer to haul their trash or even a vehicle to pull the trailer, he added.
"They just can't get the trash there. That's their excuse," he said. "We try to do it once a year in problem areas. We don't want it to replace trash service. They save it up for the community cleanup and that's not a good idea.
"Maybe we need a combination of things. Mandatory trash service, maybe a community cleanup twice a year in bad areas. We wouldn't do more than that or it basically becomes a transfer station."
Supervisor Buster Johnson said illegal dumping is never going to stop until the county puts serious consequences in place.
"People out there could use $500 for Christmas. They'll set up trail cameras," Johnson said. "Make some people rich. Put some people in jail. You're giving them five days' notice and no prosecution."