Photo by JC Amberlyn.

Originally Published: December 30, 2016 6:02 a.m.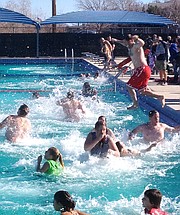 KINGMAN – Weekend temperatures are expected to be just the amount of chilly they'll need to be for any prospective pool jumpers this weekend.
The City of Kingman Parks and Recreation Department will host the 16th Annual Polar Bear Plunge at noon (not a minute before or after) on Sunday at Centennial Pool, 3333 Harrison St.
The daring dip started out as a challenge and has blossomed into a full scale specialty event to begin the New Year. Anyone wanting to ring in 2017 by braving the freezing waters of Centennial Pool are welcome to jump, free of charge.
Recreation Superintendent Yvonne Cossio said about an average of 100 people jump in each year.
"The first year we did it, I think we had 20," she said.

There are paramedics on site. "Most people are in and out," Cossio added, since "some people try to be macho and stay in." The cold water can cause muscles to tighten up. The water is in the low 40s and there are no heaters.

"I think the highest it's ever been is about 48 degrees," she said.

No word on if any local leaders will be poolside in swim suits. Cossio has taken the plunge twice herself, including the first year. She said the city manager at the time also made the dip.
"We had (former city councilwoman) Erin Cochran do it once," she said.
Several unknown prizes await brave swimmers at the bottom of the pool – including the deep end. Warm showers await all dippers at the conclusion. Anyone with a history of heart problems is warned to avoid the plunge. If they're unsure the shock of cold water may be harmful to their health, they should consult a physician prior to participating. All plungers do so at their own risk.
There will be free hot cocoa and popcorn available. Starting the event at noon (versus a chillier and braver morning hour) gives divers a chance to fill up with a warm breakfast and hot coffee.
"It's always been noon," Cossio said. "It gives people time to sleep in after New Year's Eve."
Conditions are expected to reach a high of 52 and there is little precipitation in the forecast. Cossio said city employees had to shovel snow away from the pool in 2015.
"The water was warmer than the temp outside," she said. "But people still showed up to do it."