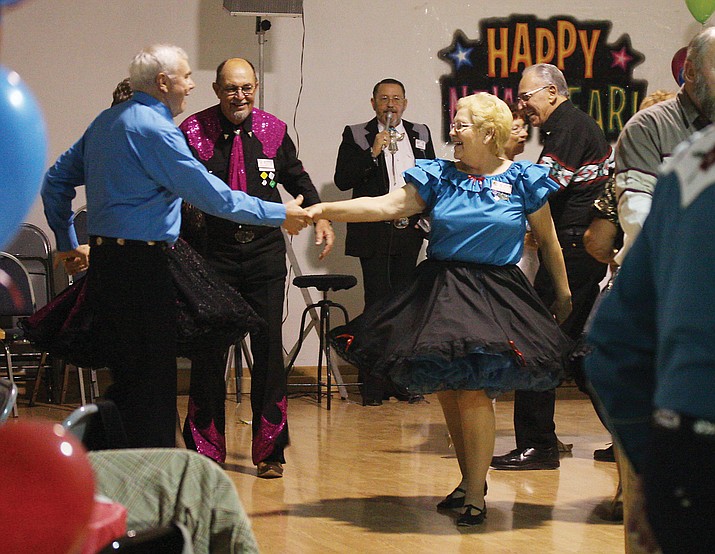 Photo by JC Amberlyn.
Originally Published: December 30, 2016 6:04 a.m.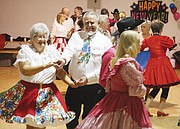 It's time to reflect on the highlights of the past year, the people we lost and the good times we had. Sure, there were a few rocky spots along the way, but somehow we managed to overcome.
Now it's bottoms up as we toast to 2017.
Some folks stay at home and play it safe for New Year's Eve. Cuddle up with the cat and watch a classic movie.
Others go out for dinner and are back before the clock strikes 12.
You can shake it down with the Kingman Kut-Ups square dance club at Kathryn Heidenreich Adult Center, 1776 Airway Ave., starting with a potluck dinner at 7 p.m. Dancing starts at 8:30 p.m. with Mike Wilder calling the dance. Cost is $10.
You don't have to be a Kut-Ups member to attend. Dancers come from Bullhead City, Lake Havasu City and Las Vegas, said Bob Tomicich, who's been with the club since 2002.
"This is more for senior people, so they cut it off around 11 o'clock, not midnight," he said. "Nobody likes to be out with the drunks."
And there'll be no sippin' on the moonshine at this hoedown. It's a family atmosphere, though nobody brings kids, Tomicich said.
"You do not drink at a square dance," he said. "You can't dance. You'll get too dizzy. You can go to square dances all over the world, no booze. You drink after the dance."
For the party crowd looking to ring in the New Year in a more raucous style, Kingman has several options for such a celebration:
• Stetson Winery (10965 Moonscape Way in Valle Vista) is putting on its fifth annual New Year's Eve Boot Scootin' Bash with a gourmet dinner prepared by Chef Michael Gaul, live music by The Aces, party favors and a champagne toast at midnight. Choice of entrée includes glazed filet mignon, chicken Saltimbocco or vegetable-stuffed lasagna. Cost is $75 and tickets must be purchased in advance. Call 928-757-7206.
• Canyon 66 Restaurant and Lounge (3100 Andy Devine Ave.) is bringing in LA Sounds Entertainment to rock the sound system all night. Celebrate the occasion with drink specials that include $3 Canyon punch, $2 draft beers and $1 jello shots. They've also got 66-cent wings. Be sure to sign up for the lip-synching contest.
• Black Bridge Brewery (421 E. Beale St.) has become the hip hangout in downtown Kingman. The brewery's New Year's bash features DJ Jeremiah Green from 8 p.m. to midnight with no cover charge. Wicked Poison toasts at 10 p.m. and 11 p.m., and a special midnight toast with "No Pricks Allowed," a concoction made by the women bartenders of B3. Brewery owner Tim Schritter said the women came up with idea from prickly pear cactus, which gives the Belgian blond beer its beautiful pink pastel. It's going to be a classy party, so "dress to impress," Schritter said.
• Fireside Lounge (1716 Hoover St.), "The Working Man's Bar," features live music by Whiskey Throttle starting at 9 p.m., party hats, noisemakers and a champagne toast at midnight. $5 cover.
• Diana's Cellar Door (414 E. Beale St.) is having Kevin Cavenagh perform from 7-10 p.m. He plays acoustic guitar and sings a wide variety of music, including country, blues and classic rock. The wine bar will count down the New Year at 10 p.m. to coincide with the ball dropping at New York Times Square.
• Cerbat Lanes (3631 Stockton Hill Road) is throwing a New Year's Eve party with champagne at midnight and free party favors. DJ Luc and VJ Neon will be spinning the hits to keep the dance floor packed. Midnight countdown with a balloon drop. No cover.
• House of Hops (312 E. Beale St.) drops a keg from the ceiling for its New Year's countdown. Twenty-seven beers on tap.
• Tack Shed (2829 Beverly Ave.) is serving 50-cent wings until 10 p.m., $3 Fireball shots all night and a champagne toast at midnight. DJ starts playing music around 7 p.m.
• Time Out Tavern (2601 Stockton Hill Road) will have a DJ and dance with drink specials.
• Sportsman's Club (317 E. Andy Devine Ave.) is encouraging New Year's Eve revelers to designate a sober driver or take a taxi.
• Dambar and Steakhouse (1960 Andy Devine Ave.) is serving up a special New Year's Eve dinner of filet and lobster tail for $64.95 from 7 p.m. to closing. It comes with soup or salad, choice of potato, vegetable and those scrumptious cheddar biscuits.
• Mattina's Ristorante (318 E. Oak St.) is one of Kingman's more popular upscale restaurants, located in a refurbished 113-year-old house in historic downtown. Among the house specialties is Pretty Boy Parmigiano, breaded or broiled chicken breast topped with marinara sauce and mozzarella cheese ($20).