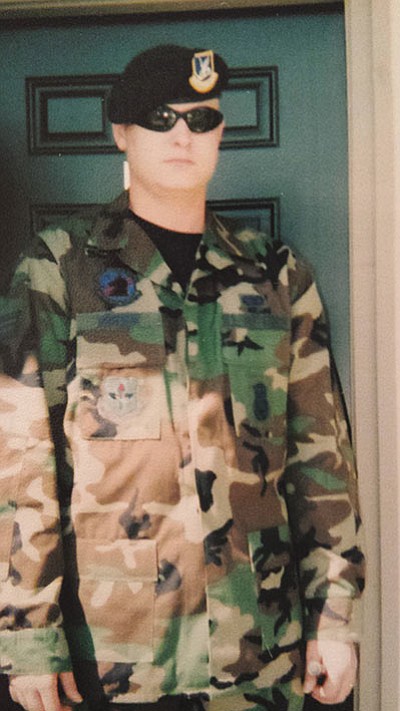 Originally Published: February 4, 2016 6 a.m.
Burley John Winsor was born Sept. 28, 1983, in Kingman. He joined the Lord on Jan. 11, 2016, in Chloride at just 32 years old.
As a young boy growing up in Dolan Springs, he captured life. He completed the Arrow of Light in Boy Scouts. As a teenager, he joined Civil Air Patrol. At just 17 years old, Burley completed his first solo flight under the direction of Mr. Kornmeyer.
Right after graduation from Kingman High School in 2002, Burley decided to sign on in the Air Force. He married his grade school love Aug. 17, 2002, the day after he completed boot camp. He trained at Lackland Air Force Base in San Antonio, Texas, to be part of security forces. He was then stationed for six years at Lackland AFB. He went on various TDYs and completed two tours in Iraq. He received various medals and ribbons for his exceptional skills.
After being honorably discharged, Burley and his wife moved back to the Kingman area. He focused on their three children as a stay-at-home dad.
Burley is preceded in death by his father, Juan Winsor, and his stepdad Bill Willison.
He is survived by his wife, Elaina, and their three children, Eric, Paige and Hailie Winsor (Chloride); his mother, Barbara Willison (Dolan Springs); his sister Cheyanne Pritchard and her husband, Tyrel Pritchard, and their five children (Birdsview, Wash.); and various aunts and cousins.
Burley was always full of life and always willing to help others, even while suffering from PTSD and having a mild traumatic brain injury from an IED in Iraq. His smile, his laughter and his love for his wife and children will be greatly missed.
Sutton Memorial handled his cremation. His memorial will be held at the Trinity Episcopal Church in Kingman at noon on Feb. 20, 2016. His family and friends are invited to share in the celebration of his amazing life.