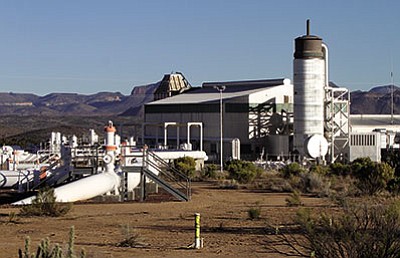 Originally Published: February 7, 2016 6 a.m.
KINGMAN - It's been a 10-year struggle for Gene Bishop and a dozen neighbors to get something done about the screeching noise coming from Kinder Morgan's Hackberry compressor station.
The whine of the compressor's two, 6,000-horsepower turbine engines isn't so bad, registering between 60 and 65 decibels on average. It's the "blow-down" that releases 600 pounds of pipeline pressure that wakes them up in the middle of the night and sets the dogs howling.
After getting no help from the Arizona Corporation Commission, which regulates utilities, and the Arizona Department of Environmental Quality, which monitors water, air and noise pollution, residents who live within a mile of the Hackberry compressor have found relief from the most unlikely source.
Kinder Morgan, the Houston-based company that operates the 442-mile El Paso Natural Gas pipeline in Mohave County, has approved a $1 million expenditure to put a silencer on the compressor.
Philip Baca, division director for Kinder Morgan, was greeted with applause from local residents when he announced the news during a Jan. 27 meeting at the Hampton Inn.
"We want to be good neighbors. I told my boss if it was my house and I had a blow-down in the middle of the night, I probably wouldn't be too happy," Baca said.
Baca met with company engineers to estimate the cost to silence the blowdown noise level, and put $1 million dollars into his budget, which is quite a chunk. It represents nearly 6 percent of his $17 million total budget to operate more than 10,000 miles of pipeline across three states and about 40 compressor stations.
The expenditure had to go through Kinder Morgan's board of directors and receive final approval from Chairman Richard Kinder, Baca said.
"So we're working with the engineering department to install the silencer to address the blow-down noise," he said. "We're looking at an October in-service date, depending on how long it takes to manufacture the silencer and bring it to Hackberry and install it."
Noise survey
Kinder Morgan hired Terracon Consultants of Tempe to conduct a 24-hour noise test on the compressor on Aug. 7. Results from the "Community Noise Survey" were published in an October report.
The scope of the project included measuring ambient noise at six locations in the vicinity of the compressor station, and a written report with a description of the sampling methods and noise data collected.
The logged data charts recorded noise levels below 50 decibels, except for three intervals that exceeded 70 decibels, including one that was around 80 decibels.
Conclusions from Terracon's community noise survey:
• Noise levels that represent compressor operation, other than the blow-down events, are not distinguishable from local noise on the graphs at the sample locations away from the compressor station.
• Noise level peaks are present on all noise level graphs that correspond to compressor blow-down times.
Baca said ambient noise such as that from a low conversation is around 50 decibels, and that a sharp rise in the measurement charts could result from trucks rolling by, dogs barking, birds chirping and occasional thunder that registers well above 100 decibels.
There was a storm overnight that lasted into the late morning during the sampling period, including a large peak at 1:50 a.m. that was not related to compressor operations.
Blow-downs can spike up to 90 decibels, and typically last about a minute, the engineer added.
It takes 600 pounds of pressure to deliver 5 million to 6 million cubic feet of natural gas a day from Texas to New Mexico, Arizona and California through the 10,200-mile EPNG pipeline, Baca explained.
The blow-downs relieve that pressure, which would otherwise ruin engine bearings that cost about $60,000 apiece. Compressors are shut down for 20 minutes to allow the bearings to cool.
Legal battle
Bishop doesn't blame Kinder Morgan. The company inherited the compressor station about a year ago, and because it was built in the late 1960s, it wasn't designed to meet the noise standards established by the EPA in 1974.
Bishop went to Mohave County for assistance, and was told to call the Arizona Corporate Commission because it was a utility problem. ACC directed him to ADEQ, who told him to make a list of the noises and dates for a follow-up investigation.
That was submitted in 2005, but ADEQ ignored the residents' concerns, Bishop said. The agency issued another five-year permit that excluded compliance with EPA noise pollution limits.
Last year, Bishop challenged the permit and requested a public hearing with ADEQ, which was held in Kingman.
"They announced they will not take questions, nor respond to any input," Bishop said. "They were there to read and publicly release the draft approval of the new permit. Everyone was livid."
The community group Citizens for Progress took ADEQ to court and proved that the agency was aware of the noise complaints for more than 10 years, and violated state regulations by not enforcing EPA compliance standards.
It was at the ADEQ hearing where Bishop met Baca of Kinder Morgan, who said it was the first he'd heard of the Hackberry compressor complaints. Kinder Morgan had just recently taken over operations.
"And that, sir, is why we salute them and appreciate their support for this problem to our community," Bishop said. "We met with them four or five times and they always treated us with respect and we appreciate that."