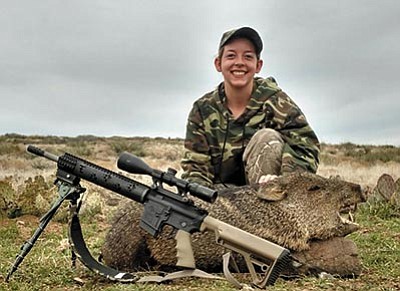 Originally Published: February 9, 2016 6 a.m.
Last weekend was the opener of the 2016 HAM (Handgun, Archery, Muzzleloader) javelina hunts in northern Arizona, and there were a lot of exciting stories out there, but I wanted to relate to you one of my personal favorite javelina hunts of the year so far, the juniors javelina hunt in Unit 18B.
I especially enjoy juniors or youth hunts as it is a time when veteran sportsmen or women are in the field assisting and mentoring those who are the future of hunting in America.
In this case it was a kind of a rite of passage for one of the young hunters we have been friends with for several years now.
His name is Ryan Borden. This month Ryan will turn 18 and his time in the Arizona juniors program will come to an end.
From here on out Ryan will be applying as an adult for tags, and he will no longer be afforded the special privileges that come with being a junior hunter in Arizona.
As a junior, most but not all of the tags he had applied for were relatively easy to draw.
And when he had a tag in his pocket, he wasn't faced with the situation that he will now see on general hunts.
The days of hardly seeing other hunters in the field are now long gone.
He will see lots of other hunters out there when he is hunting, all competing for the same limited resource.
Those of us who have helped Ryan over the past few years can only hope that he will retain the concepts that we tried to teach him as a junior sportsman. These include ethics, safety and sportsmanship, along with respect for the game we pursue.
I wanted to share the story about his last - and successful - juniors hunt.
The juniors javelina hunt in Unit 18B had 100 tags as authorized by the Arizona Game and Fish Commission.
I had applied for a tag for Ryan, as a reward for helping me out throughout the year. I also got a tag for his sister Laura. She has also been a huge help on projects I have been involved with, from Arizona Hunter Education to being a volunteer in my hunting and fishing businesses.
Over the years I had told both Ryan and Laura that hunting and fishing are privileges, not a right.
Getting to experience the great outdoors was a reward for good behavior and a solid effort on their part of being good citizens in school and in our community.
The opportunity to go hunting and fishing was not something that was just given to them. They stood up, accepted the challenges, and earned it.
Also assisting on this hunt with the Bordens was my good friend and fellow sportsman Jay Chan. Chan has also been a mentor to both of the Bordens for several years.
Also helping us on Ryan's final hunt was fellow Arizona Wildlife Outfitters guide Tad Levandowski, a Kingman resident. Tad has been a longtime mentor to many youth in the Kingman area.
Opening day for us was tough. We saw just three pigs despite a lot of serious glassing. We never got close enough for the Bordens to get a shot.
But Day Two started off much better when a couple of pigs ran across the road in front of us as we were driving to our first glassing spot.
Tad, Ryan and Laura headed off after them, but they were never located in the thick brush.
At our first glassing spot, we hadn't been there for five minutes when Tad came charging down the hill saying he had found a herd of pigs about 500 yards away. Once more Tad took off with Ryan and Laura in pursuit of the peccaries while Jay and I watched the action from across the hill.
The pigs were moving through the brush, but Tad got the young hunters on a couple that had moved off from the main herd.
It was Ryan who would get the first shot.
His shot hit over the sow, but the second one was on the money. A quick third shot sealed the deal and Ryan had a mature sow which weighed almost 33 pounds. Now it was Laura's turn.
We moved about 100 yards down the two-track road we had been on and started glassing again.
Just a few minutes later I heard Jay ask Laura, "You ready to go for a walk?"
I knew that Chan had found our third group of pigs of the day. Sure enough, about a half-mile away Jay had found a group of about 10 pigs feeding on a rugged, steep hillside.
Jay, Tad and Laura headed out while Ryan and I watched the stalk with the spotting scope.
It would be swirling winds that gave away the position of the hunter and her guides before they could get in close.
The pigs broke out of the brush and started running, stopping occasionally to try and figure out what was going on.
Laura got shots at 210 and 230 yards with the Rock River AR-15 that she was using. While the elevation was right on, the two shots didn't connect and the herd ran away, unscathed.
Later that day Ryan and I were glassing across a valley when I spotted a single pig far out on a flat about two miles away. I was using a high-powered Swarovski spotting scope when I spotted the pig. The rest of the herd of eight came into view a short time later.
It was getting late, and it would be a long and steep climb up the mountain, but the young hunter and her two mentors were determined to make an effort to get to the pigs before dark.
Ryan and I watched and waited. Then we heard a single shot.
Next thing we heard was Tad saying that Laura had a made perfect shot at 185 yards that had dropped the herd boar in his tracks. The old boar later pushed the scales to 38.7 pounds, which at the time was good enough to be in second place in our 2016 Big Pig contest
Laura even assisted in carrying the pig back to their truck. Both young hunters skinned their trophies at camp.
It was the end of a perfect day, and exactly how the Arizona Game and Fish Department juniors hunt program is supposed to work. Both young hunters had connected on mature pigs while under the supervision of their friends and mentors.
It truly is part of what hunting is all about.