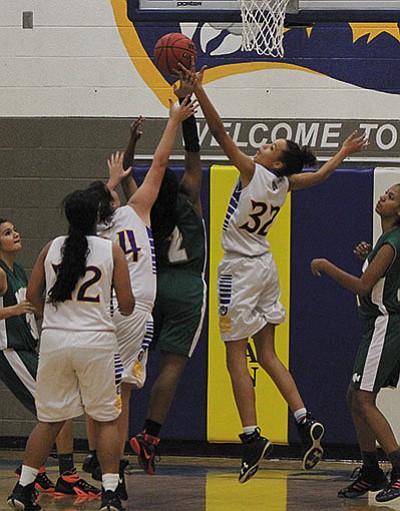 Originally Published: February 11, 2016 6 a.m.
KINGMAN - It's a whole different Kingman High Lady Bulldogs basketball team without the state's leading scorer, senior Desirae Gonzalez, in the lineup.
Kingman (16-2) couldn't keep up the pace with Estrella Foothills (14-5) in the Division III, Section VI tournament semifinals Tuesday at Buckeye Youngker, 56-32.
Gonzalez was kept out with a sprain to her medial collateral ligament in her right knee that happened Feb. 3 at Buckeye. She's averaging a double-double with 28.5 points per game and 10.3 rebounds. That's a lot of firepower to be missing.
"Yes, but we still have to play," said KHS girls basketball coach Danny Gonzalez. "My two freshmen did an outstanding job."
Keara Tauta provided the Lady Bulldogs with half of their offense with 16 points, and Christina Thames led Kingman with seven rebounds. Tauta shot 5-for-7 from the floor and was perfect at the free-throw line, going 4-for-4.
Kingman kept pace through the first quarter and actually led at the end, 15-14. However, the Lady Bulldogs could score only three points each in the second and third quarters and that allowed Estrella to run away.
Makenna Taylor scored nine points for Kingman. Courtney Mossor and Cheri Roundy each added three, and Kim Carroll had one.
Kingman now waits for the D-III State Championship brackets to be released by the Arizona Interscholastic Association beginning at 10:30 a.m. Sunday. The Lady Bulldogs currently are ranked No. 12, and if they remain above No. 16 and below No. 9, they would host a first-round game next Wednesday.
Whether or not they get Gonzalez back appears to be in the realm of hope and prayers. Gonzalez will be reevaluated early next week.