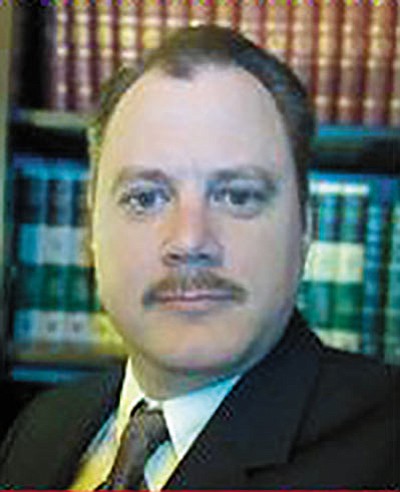 Originally Published: February 11, 2016 6:02 a.m.
Editor's note: This is the first in an occasional series on candidates for Mohave County sheriff.
KINGMAN - It would be unfair to characterize John Plough as anti-federal government, but it would be spot on to say the candidate for Mohave County sheriff is anti-federal government overreach.
The only one of seven announced candidates who doesn't have a background in law enforcement, Plough in a recent interview didn't hold back on why he thinks those views are what's required in the next sheriff.
He offered his take on the ongoing armed takeover of the Malheur National Wildlife Refuge in Burns, Ore., and the killing of Mohave County resident Robert LaVoy Finicum at the hands of federal law enforcement officers last month.
"One of our residents was murdered, as far as I can tell for trespassing," said Plough from his Fort Mohave home. Plough said his issue is not confined to the Bureau of Land Management and that entity's oft-contentious relationship with ranchers in the West.
"Something is out of control and all I can say is stay away from the federal government," he said.
This isn't to suggest Plough necessarily agrees with the takeover of the Oregon bird sanctuary led by Ammon Bundy, the son of Nevada rancher Cliven Bundy.
"If the sheriff in Oregon had not wanted anyone killed in this stupid protest, he could have convened an independent grand jury," he said. "The framework is already there. I think what happens with career government employees is they only see the government's side of it. Sometimes you have to stand tall when everyone is running scared."
So what does any of this have to do with leading the Mohave County Sheriff's office? From Plough's perspective, the next sheriff will have to be vigilant in ensuring any federal law enforcement work in the county actually involves "real criminal activity." If not, the sheriff can and should stop them from targeting the county's residents.
"The federal government cannot enlist local sheriffs to engage in prosecuting federal cases," he said. "Nobody had to die up there (in Oregon) and somebody maybe needs to shine some light on the issue."
As for the office he hopes to lead, Plough said the nearly 90 deputies in Mohave are "overworked and underpaid. They are the lowest paid in the state," he said.
He is uncertain whether he supports Sheriff Jim McCabe's proposal that the Mohave County Board of Supervisors raise the sales tax by a quarter-cent in order to increase the office's funding.
"The sheriff's office is a legitimate function of government. If the supervisors say there's no money to pay deputies better and fill vacancies, and if the money really is not there we need a tax hike," he said. "But deputies don't grow on trees. We have 87 deputies patrolling (nearly) 14,000 square miles, alone, far from backup."
Plough said it's been difficult to get a handle on the budget realities at the sheriff's office.
"As an outsider, I'm not getting help in finding this information, but I do know we have slots for 100 deputies, we have 86 deputies, and we probably need 130 deputies to improve response time."
Plough said the 1.7 deputies for every 1,000 county residents is far too low if for no other reason than the county's vast geographic size.
Plough also said "money is always somewhere to be found in government budgets. When I was in the Navy we spent every dime we had or else we wouldn't get as much money the next budget cycle, and I expect Mohave County operates on the same principle."
He also said a comment he made at a candidates' forum in January regarding feeding green bologna to inmates was a joke, adding that controversial Maricopa County Sheriff Joe Arpaio saved significant money by adjusting the inmate menu: "When you're in jail, you're not on vacation."
He said every other candidate has mentioned that federal guidelines dictate the caloric needs of inmates.
"That's the problem," he said. "We have to cut somewhere. Get vehicles to last longer and change the food at the jail."
Plough said if he's elected he would welcome expertise from retired residents regarding the budget, jail management, personnel and other functions of the job.
And while Plough might not have ever carried a badge, he said he understands what the job of sheriff entails: "The number one role of government is to keep the barbarians at bay and protect people's property."
For more information on Plough and his campaign, visit his website, www.ploughforsheriff.com.