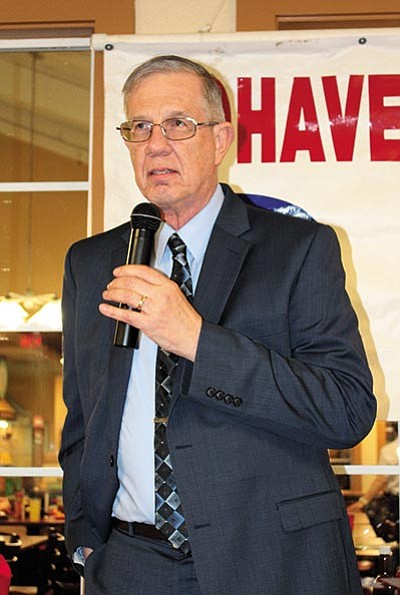 Originally Published: February 14, 2016 5:58 a.m.
KINGMAN - The future of Mohave County is Kingman. Mayor Richard Anderson said Supervisor Buster Johnson said as much during a presentation the mayor made to the Mohave Republican Forum Wednesday, and he said the longtime supervisor also said the county cannot survive if its three incorporated cities don't grow.
"We have a lot of land, a small population and not a lot of money," said Anderson. "If incorporated cities grow, it will reduce the burden on the county."
So what's keeping Kingman from growing? According to Anderson, some people don't want the city to grow, having come from California or other states with high taxes and they don't want to pay high taxes, but three years later, he said, they're complaining about the condition of roads and the lack of services.
Anderson said the construction of Interstate 11, while admittedly 10 to 15 years away, is critical to Kingman - so it's equally critical the city prepare for the increased traffic the interstate will bring. "Is Kingman willing to take advantage and leverage that?" he said.
Something needs to happen as the city's sole local revenue source, sales tax, doesn't provide the buying power it did a decade ago, he said.
"We can't expand. We can't annex the airport into the city," he said, and even if the airport were annexed, there are very few businesses out there that generate sales tax revenue. He also said the Northern Arizona Consolidated Fire District could hardly stand to lose roughly $1 million a year airport businesses pay the district for fire protection.
Anderson said it costs about $92,000 to build a road one city block long. And while sales taxes have grown unreliable, the city's population continues to increase, putting more pressure on the city to provide services. There is also a domino effect in play - as businesses close down, unemployment goes up.
"People are shopping elsewhere," Anderson said.
He said the development of Kingman Crossing is critical "if we want to be ready for what's about to hit us."
On the upside, Anderson said at least 20 companies want to do business at the airport, but "if we don't have anything to offer them ... we need to get on the bandwagon and figure out how to get the city to do what it's supposed to do."
More than planned retail development, Anderson said the most important aspect of the proposed Kingman Crossing development is to provide access across Interstate 40 in eastern Kingman, where most of the recent growth has occurred.
Councilman Larry Carver joined Anderson at the forum and he made a plea to residents, asking them not to judge all city employees for the alleged $1.1 million embezzlement former budget analyst Diane Richards purportedly committed over a more than 8-year period.
"Please don't judge city employees on the act of one person," Carver said. "I understand the private sector still has low wages, but you can't control everyone. Sometimes one goes bad."
Carver also said his time on the Council has been educational, as well as frustrating. "Who has heard that government should be run like a business?" he asked. A grumbling from the audience indicated they agree with that philosophy.
"I did, too, until I got elected," he said. "I found all these stumbling blocks. It may seem it takes a long time for things to get done, but there's no away around them."
Like Anderson, Carver believes the City Council needs to play a bigger role in what goes on at the airport, particularly when it comes to attracting employers.
That led a member of the forum to ask this question: Is the Kingman Airport Authority holding us hostage?
"I have heard about businesses coming into town and getting a negative response from the airport," said Carver. "I've heard they've been told they don't have to pay that much (in employee wages) when the business says it has to pay a better wage to get the people it needs.
"I don't want to say it's deliberate, but they need to be more enthusiastic about bringing business in," he said.
That led to a discussion regarding the contract the city has with the airport authority. Anderson said former Mayor Carol Anderson entered into a third-party contract that was "pretty loose, with not a lot of terms or requirements, and it lasts for 25 years."
Anderson also noted the airport authority can renew the contract without the Council's approval. He said it wasn't right for a past Council to tie up future Councils for years and years. "Our attorney is looking into it," he said.
The airport, he said, is key to the city's future.