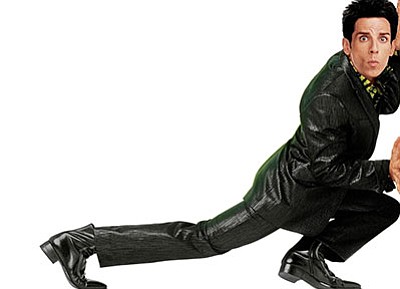 Originally Published: February 15, 2016 6 a.m.
I'll admit I didn't get this film at all. I haven't seen the original Zoolander and maybe that's why I didn't get version two.
I'm not alone, though, so I don't feel so bad or maybe disconnected with new age humor. My 16-year-old daughter didn't get the film either. When asked what her favorite part was, she said there wasn't one.
The opening scene is reminiscent of a James Bond film, with two motorcyclists chasing a shadowy figure along wet, cobble stone streets firing silenced machine-pistols. The hooded, shadowy figure does a few jumps dodging incoming rounds while running through an alley, a parking lot and eventually a fenced dead end street.
The figure removes its hood, revealing Justin Bieber playing himself. He gets shot perhaps a hundred or more times replayed over and over to complete monotony. This is the second film where the high point is Bieber getting shot. He's in danger of being typecast.
Ben Stiller is Zoolander and he shares camera time with Owen Wilson, who plays Gretel. Stiller is recruited by the fashion police's Valentina Valencia, played by Penelope Cruz. Throughout the movie there are cameos by just about every other celebrity or fashion icon, Will Ferrell, Kristen Wiig and Fred Armisen among them. I can't imagine the size of the payroll.
After the Bieber scene the movie goes downhill fast, with slapstick humor that just doesn't work. Stiller starts off talking with an accent which gradually disappears as the movie progresses.
The jokes, meanwhile, keep coming almost as fast as the bullets came to Bieber. I did chuckle a couple of times at most. Laurel and Hardy or even the Three Stooges carried slapstick considerably more successfully.
Cruz played the "straight man" most of the time and did do a fairly good job in her character. But even with all the celebrities, the movie falls flat. It took too long to get a plot going.
Was the plot for Zoolander to find his son, or was it to save his son from being killed, or was it something else entirely?
"Zoolander 2" is rated PG-13 for sexual content, violence and strong language. It's only 1 hour 40 minutes long but you'll swear it's a three-hour movie. I'll give it a charitable 1 out of 4 Miners.