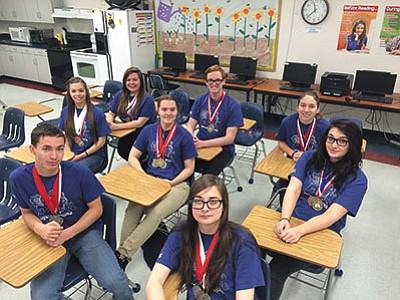 Originally Published: February 16, 2016 6:02 a.m.
KINGMAN - Kingman Academy High School defeated eight other teams to win the regional academic decathlon Feb. 5-6, with senior Megan Radcliffe tallying the highest score on the team.
It was the fourth straight year that Kingman Academy High School has won the regional competition, which was held at Kingman Academy.
Perennial power St. John's, which dominated the academic decathlon for about 20 years, finished second to Kingman Academy.
The team consists of nine students filling three separate grade point average (GPA) divisions and competing in 10 different subjects that change every year.
Students competed in art, economics, essay, interview, language and literature, math, music, science, speech and social studies.
"I have to find the three best students for each team, students who can write a good essay, not just a math person," said Michael Suchowierski, Kingman Academy assistant principal and academic decathlon coach. "You have to be a scholar, a renaissance man, if you will."
Kingman Academy has a semester class that teaches students about current events in artwork, music, science and economics. They learn about different cultures. This year it was India.
Radcliffe, who racked up more than 6,900 points for Kingman Academy, said she developed her own study guide, printed it out on Google Docs, and handed it out to her teammates for review in class.
Senior Corytha Gastineau said it was great to win the academic decathlon in all four of her high school years.
"We put in a lot of time," she said Thursday during lunch break. "We're here every day from 4 to 6 and we have the class that takes up two hours, and there's a lot more people in the class, but those who score the highest on the final make the team, basically."
"We find kids who are willing to learn new stuff and challenge themselves," Suchowierski added. "They work hard. It's my job to make sure they have the tools to make them successful and provide materials to learn the subject matter and help them get over test anxiety."
Kingman Academy produced four medal winners, or top students in each event: Megan Radcliffe, Alexis Whalen, Stasi White and Anna Samel.
The complete team:
Honors (3.75 to 4.0 GPA): Alex Whalen, senior; Tyler Radcliffe, sophomore; and Emme Compton, senior.
Scholastic (3.0 to 3.74 GPA): Megan Radcliffe, senior; Stasi White, junior; and Corytha Gastineau, senior.
Varsity (2.99 and under GPA): Peter Kile, senior; Jacob Appleby, sophomore; and Anna Samel, sophomore.
Kingman Academy advances to the Academic Decathlon State Tournament March 11-12 at Red Mountain High School in Mesa. More than 40 schools will be competing, with Kingman Academy in the medium-sized school category.