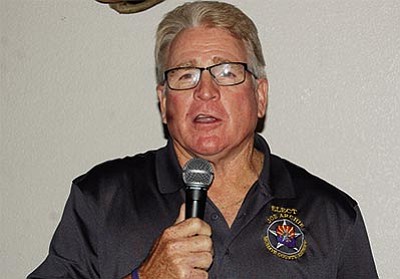 Originally Published: February 17, 2016 6:02 a.m.
Editor's note: This is the second in an occasional series on candidates for Mohave County sheriff.
KINGMAN - Joe Archie spent most of his adult life in law enforcement and the bulk of that time he spent at the Lake Havasu City Police Department, where he started as a cop on patrol and finished 25 years later in 2015 as a member of the command staff.
Archie said that résumé and the experience that came with building it is what qualifies him to be the next sheriff of Mohave County. He isn't shy about counting off the problems at the Mohave County Sheriff's office, as he sees them, but don't expect him to bash anyone personally in order to get his points across.
"The biggest issue is employee retention," he said. "I've been meeting with the Board of Supervisors trying to get them to understand it's not just pay."
Archie said pay is certainly a contributing factor as to why so many sworn officers and civilian employees have left the sheriff's office, but the primary reason is their supervisors. "If they don't get along they won't stay. Pay is number two."
It's a big No. 2.
"There's a great big disparity between the S.O. and all other agencies," he said.
Archie pointed out Sheriff Jim McCabe has told Mohave County Supervisors that he needs 130 deputies (there are currently fewer than 90) to cover a county of more than 13,400 square miles. Yavapai County, at about 8,000 square miles, has 130 deputies and Archie said he "won't 100 percent disagree" with McCabe's contention.
"There are other factors this brings in to play. Calls for service, response times, I knew this before I became a candidate," he said. "The response times are woefully pathetic in a lot of instances. I don't want to throw mud, but there are problems."
Archie also believes deputies are not properly trained because their supervisors are not trained in how to lead: "There's not enough respect for the public's rights. They (the public) are our bosses and their expectations are not being met. I knew this was an issue, but it's become more evident now."
He also said some people call for help and a deputy might not show up. "The policy should be, 'You call, we haul.'"
And the problem is not confined to the far reaches of Mohave County. "It's countywide," he said.
Archie said he would support McCabe's request to county supervisors for a quarter-cent hike to the sales tax in an effort to pay deputies more money and to address the compression issue, meaning veteran deputies make little more than rookies. There is a caveat, however.
"The public has to approve it," he said. "If supervisors are not willing to prioritize the budget, it leaves one option and if the public thinks it's important enough then that's absolutely the way to go."
The quarter-cent sales tax bump would solve the twin issues of pay increases and compression, he said, "but the public has to approve it. People have been taxed so much and it irritates me when (government) can't live within its budget. It seems government says, 'Let's raise taxes a little here and a little there.' "
Archie said one supervisor told him all Mohave County employees deserve pay raises, and he agrees, but it's more important in public safety because it costs 12 months and about $100,000 to train a recruit until he or she is ready to hit the street. "They're throwing money down a rat hole. Doing the same thing over and over again and expecting a different result is the definition of insanity."
Archie said the numbers are irrefutable. In the past eight years, the sheriff's office has seen a turnover rate of 117 percent, but if the supervisors don't raise the sales tax to help the sheriff's office, what is Plan B?
Archie said he would make fundamental and meaningful changes to address morale issues that go beyond inequitable pay.
He said he would bring in outside agencies to address testing for promotions, including at least one civilian with a background in running a business, to assess deputies who take the sergeant's exam, sergeants who take the lieutenant's exam and on up the line.
The S.O. doesn't let outside agencies or civilians sit in on assessments, which he said leads to accusations of "the good old boys and cronyism." Lake Havasu City Police does, and that allows them to evaluate people vying for a promotion without any favoritism: "This is systemic of the entire department," he said. "They don't play well with others."
And those who do get promoted aren't given the tools to be effective supervisors, he said. He said newly promoted sergeants should take leadership classes and lieutenants should attend a leadership academy so all supervisors are trained in the same principles of leadership.
If elected, Archie said he would send all current and potential supervisors to these classes, from sergeants to command staff, along with civilians such as those who supervise others in dispatch and the jail.
Archie said the sheriff's office rarely sends someone to attend the Western Arizona Law Enforcement Association monthly meetings. The association has 22 member agencies in the region, including the San Bernardino (Calif.) Sheriff's office and the California Highway Patrol, Kingman, Bullhead City, Lake Havasu City, Yuma and others.
Archie said he would also make it a priority to do two things with the sheriff's office's annual $22 million budget: Make it easier to understand and available to both employees and the public.
"The S.O.'s budget is completely confusing and I found out nobody in the department understands it, either," Archie said. "There has to be transparency. You have to let employees know what you're doing and how you're going to do it. I'm not a rocket scientist or an accountant, but I know budgets can be made easy to understand."
Archie handled the Lake Havasu City department's budget for a number of years before an outside accountant was brought in to perform those duties.
He also said he would improve the department's flow chart so everyone would know where everyone is, what their days off are, and everyone's name will be on it. "None of these things should be secret."
To help the public better understand the department, Archie said he would create a website separate from the Mohave County website. "This will help people understand what they need to understand," he said.
So why should voters give Archie the nod?
"There are only two qualified candidates," he said. "Me and Rodney Head (McCabe's chief deputy and the former chief of the Bullhead City Police Department). I obviously have been through every avenue of a law enforcement agency and that speaks for itself. I concede Rodney has a better résumé than I do, but I also know the department is ready for a change of direction and a different perspective."