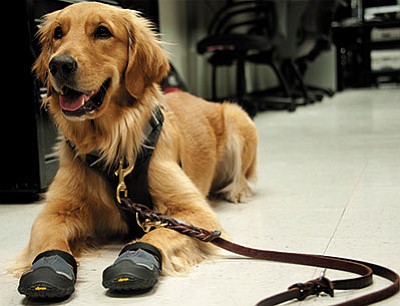 Originally Published: February 18, 2016 6:02 a.m.
KINGMAN - Computer forensic detectives who work at the Arizona Counter Terrorism Intelligence Center have a new partner that can sniff out digital evidence against suspected pedophiles - and also provide comfort to detectives who have to view disturbing images of sex crimes against children.
"Fallon," a golden retriever, came from a group called Power Paws and the 100 Club donated him to the unit.
Two Highway Patrol troopers have received special training for Fallon, "who is already proving to be an invaluable tool," according to trooper Tim Case. Case said Fallon is trained to sense emotional distress and to engage the distressed person.
When he's not calming stressed-out detectives, Fallon can help them find hidden digital storage devices in pursuit of a criminal sex crimes investigation.
"The idea of an assistance dog that relieves stress makes a world of difference to detectives who must deal with disturbing investigations," said Carey Dillabo, associate director of Power Paws Assistance Dogs. "Phoenix Police and the FBI have taken part in this program. Just sitting and petting the dog provides stress relief for our law enforcement partners."
In addition to the 100 Club, a nonprofit agency that "stands behind the men and women who stand behind the badge" and Scottsdale-based Power Paws, the For Those Without a Voice and the Internet Crimes Against Children organizations also contributed to bringing Fallon to the unit.