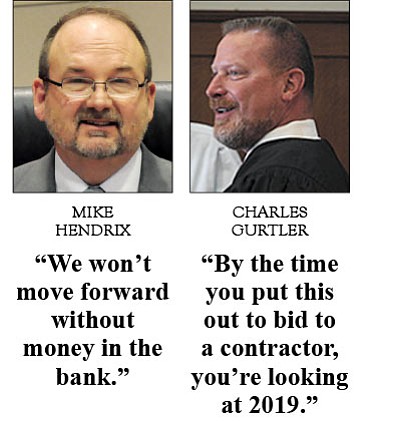 Originally Published: February 18, 2016 6 a.m.
KINGMAN - While funding sources for the new courthouse have yet to be identified, the Mohave County Board of Supervisors moved forward on the architectural design process Tuesday.
The board voted 4-1 to approve and cap architectural services at $2.2 million to be paid out of a capital facilities fund.
Superior Court Presiding Judge Charles Gurtler told the board that architectural services would cover not only the new Mohave County Superior Court, but renovation of the historic courthouse in downtown Kingman for Justice Court.
Denver-based National Center for State Courts estimated construction cost at $21 million, though the preliminary design has been "scaled back tremendously," and the project could come in at the low estimate of $18 million, Gurtler said.
It's going to take a minimum of six to nine months to select an architect, plus another year to prepare plans, he said.
"By the time you put this out to bid to a contractor, you're looking at 2019," the judge said.
Supervisor Buster Johnson, who voted against the motion, expressed his reservations about funding.
"I think we're rushing into something we don't have money to pay for," he said.
Law and justice facilities were the No. 1 priority when the quarter-cent sales tax was implemented in 2000, and it's a bigger problem 16 years later, Supervisor Hildy Angius responded.
Finance Director Coral Loyd gave a rundown of potential funding for the courthouse, including an ending balance of $17.7 million in the general fund.
Some of the money will be used to pay down debt on the new jail, with the earliest payoff in April 2018 without prepayment consequences, she said.
She estimated a $14.5 million balance by the end of the year.
Supervisor Gary Watson said he was a "little bit leery" of not investigating all possible revenue funding, along with pursuing a public-private partnership to build the courthouse.
"I don't have an answer to all the revenue sources," County Administrator Mike Hendrix said. "We wouldn't recommend approving any capital project unless we have guaranteed funding sources. We won't move forward without money in the bank."
Since the county won't be paying off the jail until 2018, funding is available for architecture services, but not for construction, Hendrix added.