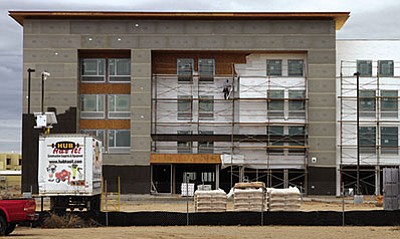 Originally Published: February 21, 2016 6:02 a.m.
KINGMAN - Housing starts bounced back to their 35-year average in 2015, though home values decreased slightly by 3.2 percent, the city's Development Services department reported Tuesday during a special meeting of the Planning and Zoning Commission.
There were 206 housing starts last year, compared with 152 starts in 2014 and three shy of the 35-year average of 209. It's the highest number since 319 residential building permits were issued in 2006.
Total valuation of new single-family houses topped $36 million, up 33.4 percent from $26.9 million in 2014. However, average home value declined to $174,896, down 3.2 percent from $180,670 in the previous year.
The numbers indicate that Kingman continues to recover from the Great Recession, said Gary Jeppson, director of Development Services.
"We're on the upswing as a community," he said. "We are back to normal on new single-family residence starts and we're seeing new commercial development, the La Quinta Inn and new subdivisions being developed."
There were six new commercial building starts in 2015, one fewer than the previous year, but commercial permit valuation doubled to $7.9 million. Much of the growth is in redevelopment of existing commercial buildings and accessory buildings.
Among the major commercial projects:
• La Quinta Inn: 3419 Hotel Way; 94-room, four-story hotel; Wright Group is the contractor.
• Angle Homes: 2800 Hualapai Mountain Road; 17,846-square-foot, single-story office building for Angle Homes; Angle Homes is the contractor.
• Mattress Land and Furniture: 4290 Stockton Hill Road; new tenant in the formerly vacant Ashley Furniture store building.
• Kingman Honda: 3800 Stockton Hill Road; remodeling and adding 11,000 square feet; nearly $2 million expansion; Brack Construction is the contractor.
• Jimmy John's and Mattress Firm: 3411 Stockton Hill Road; sandwich shop and mattress store in new building.
• Kingman Chevrolet: 3730 Stockton Hill Road; $1.5 million remodel project; TR Orr Construction is the contractor.
The Planning and Zoning Commission reviewed three new preliminary subdivision plats in 2015. The City Council approved Mission Estates II, which contains five lots on a 0.9-acre site. The Planning and Zoning Commission tabled the Kingman Crossing tract with 117 lots on 28 acres. Airway Plaza subdivision, which has eight lots on about 4 acres, was withdrawn by the applicant.
"Construction is picking up and will continue to grow, especially with I-11 coming," Mayor Richard Anderson said. "We can leverage that additional traffic for people to eat here and stay here and shop here, plus the (Kingman Airport) industrial park is going to grow."
Anderson said Rep. Regina Cobb, R-Kingman, has introduced a bill at the Legislature that would change the calculation of the transaction privilege tax on new construction.
"She basically wants to have the value of the building permit serve as a basis and it would automatically be collected and distributed by the Department of Revenue," Anderson said. "I have substantial concerns that valuation used on building permits is not necessarily accurate and we believe we're going to get increased costs from the Department of Revenue to process all of this. We have no idea of the impact of this bill."
In other developments from the annual report, the city amended the general plan in the Kingman Crossing area. The city owns 168 acres south of the future Kingman Crossing interchange that was designated as parks and open space, and changed 151 acres of the property to regional commercial.
The city continues to work on the development of the Rancho Santa Fe Parkway (Rattlesnake Wash) interchange on I-40. The project was removed from ADOT's five-year capital improvements plan.
Planning and Zoning considered two conditional use permits in 2015, including one from Central Christian Church to assemble at 112 N. Fourth St. in the historic Central Commercial Building.